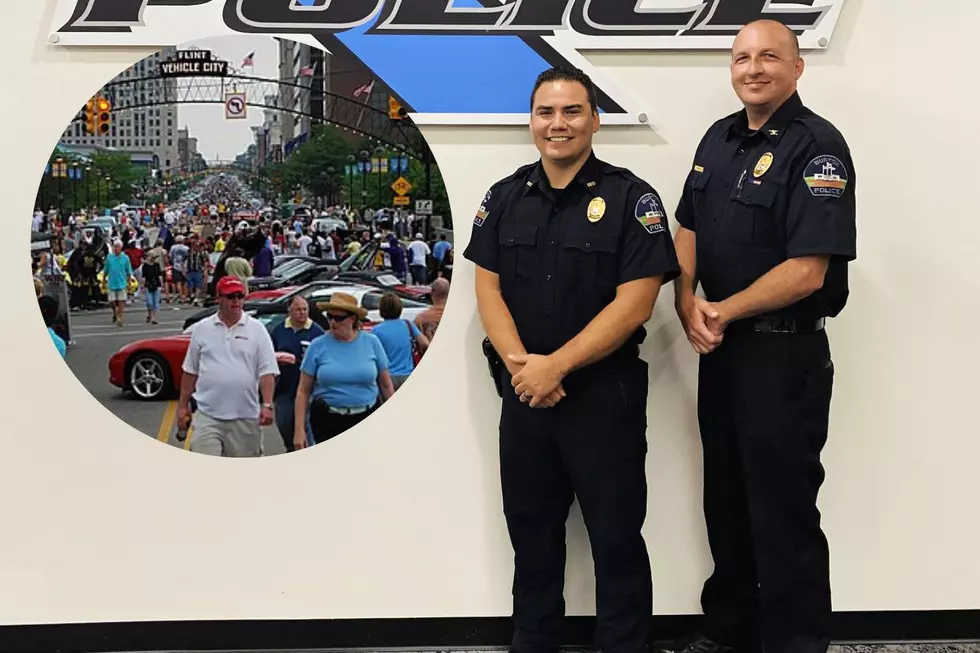 Injured Burton Officer Honored by Being Named Back to the Bricks Grand Marshal
Just before Christmas this past year Burton Police Officer Dalton Christie became a statistic in law enforcement by being shot in the line of duty. While on the road to recovery Christie has received a very big honor for one of the area's biggest summer events.
The Back to the Brick organization announced Friday, July 1st, that Officer Christie will serve as the Grand Marshal for this year's event. The Back to the Bricks Executive Committee traditionally honors someone that works hard, gives back, does their best to make a difference, and is proud of where he works and where he lives as their selection. Christie, one of two officers shot that fateful day last year completely fits the bill.
As part of the distinguished honor, Officer Dalton will take part in the Ribbon Cutting at Factory One in Flint at 4 pm on August 17, 2022, which will be followed by a Rolling Cruise from Factory One to Grand Blanc High School. Once at the home of the Bobcats, Christie will be greeted by the Grand Blanc Chamber of Commerce at their "Roll on In" event.
Officer Dalton will also be at the Saturday Main Event Opening Ceremony as a Special Guest, on August 20th at 10 am near the GM Statue Plaza in Downtown Flint on Saginaw Street.
Officer Christie, humbled by the news, commented on the honor saying,
 "We really don't want the spotlight or recognition but I'm proud to represent all officers and their dedication to their duty."
As he continues with his recovery, Officer Chrisite is still focusing on the career he's dedicated his life to. He is currently working on his master's degree in Criminal Justice and is set on being back to work full time soon, something City of Burton Police Chief Brian Ross looks forward to.
"I am so proud of our department and Officer Dalton. What he and Brandon, the other officer involved, went through is life-altering." Ross said while also giving praise to the Sheriff's department and the surrounding Police departments, and local agencies for all their help, and continued support.
Congratulations Officer Dalton Christie on a well-deserved honor.
You can check out all the Back to the Bricks news and event schedules here. 
LOOK: See the iconic cars that debuted the year you were born
$3 Million Michigan Playground Estate with Resort Style Pool & Room for 20 Cars
Cars lovers listen up! For those who love resort-style living, this one is for you! The best part is we are talking about just one home. This Rochester, Michigan home is on the market for $3M and is loaded with extras you could only dream of. Love cars? There's room for 20 of them. Enjoy wine? It has its own wine cellar with a tasting room. Did we mention a pool and backyard area that resembles a 5-star resort? It has that too. Take a look at this masterpiece.
$6.9M Lake Michigan Estate is Like 5 Star Hotel Living: Look
This one-of-a-kind, Lake Michigan estate, is just an hour away from Chicago and is top-notch from top to bottom. Located in the Lake Michigan community of Grand Beach, this incredible 10.174 sq ft. home has 4 bedroom suites with additional sleeping quarters in the guest house and 8 designer bathrooms.
The highlight though is the ambiance outdoors that makes you feel as if you have escaped to your own private resort. The estate has an oversized private pool fit for a 5-star hotel, 5 decks, and patios with magazine-worthy views
according to the listing
. There are also 3 heated garages that will accommodate 5 vehicles and of course a heated driveway. Take a look at pure luxury that can all be yours for $6,975,000.