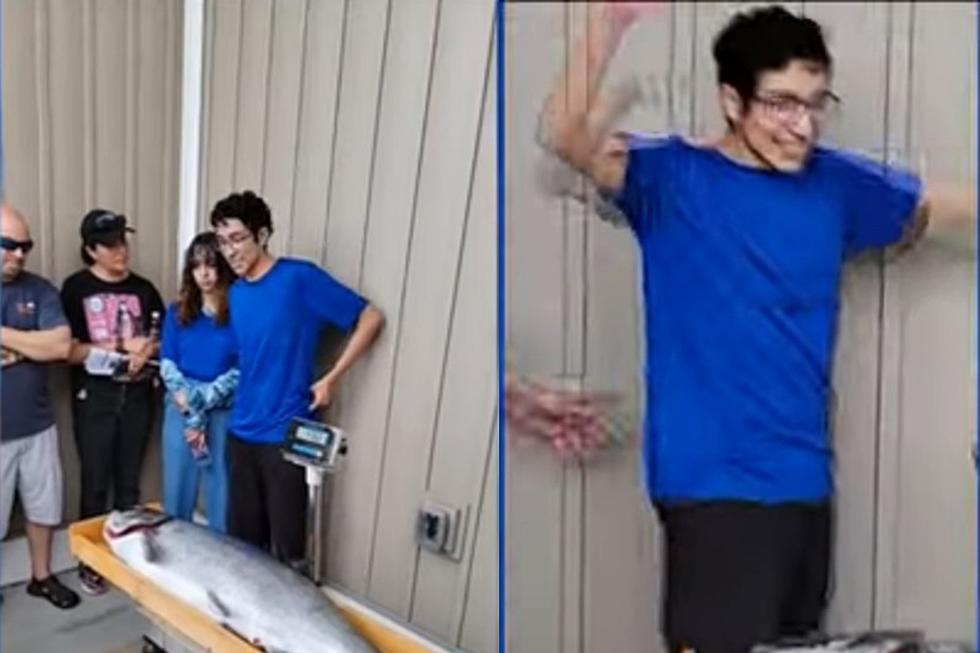 Ortonville Teen Breaks State Record for Largest Salmon Caught in Michigan [VIDEO]
WOOD-TV8 via YouTube
We've all heard fish stories. But Louis Martinez isn't exaggerating when he says he caught a Chinook salmon that was absolutely 'ginormous.' The Ortonville teen broke a Michigan record on Saturday (8/7) when he pulled the 47.86-pound fish out of the water in Ludington.
Martinez broke a record that has been in place since the late 70s when a 46 pounder was pulled from the Grand River in Kent County.
First Time's a Charm
As luck would have it, this was the 19-year-old's first time fishing for salmon. He had just gotten his fishing license the previous day on Friday. Martinez, along with his mom, sister, and stepfather set out on the fishing expedition early Saturday morning on an Ice Breakers charter boat.
Martinez says his family and the boat's captain, Bobby Sullivan all joined in on the excitement as he battled with the fish.
"The first 10 minutes were quite a fight," Martinez said. "They were all screaming, and I was like: 'What did I do?'"

 
It's Official
Jay Westley from the Department of Natural Resources made it official on Saturday. He drove from Kalamazoo to Ludington on Saturday to certify the record.
"They took the top off of the cooler and I think the [first] words out of my mouth were 'Oh my God,'" Westley tells WOOD-TV.
Westley says the huge catch is great news for the salmon population in Michigan because the number of large fish caught recently indicates that there is a good balance of fish in Michigan's lakes.
50 Haunted Michigan Locations
Below is just the tip of the iceberg—a list of fifty Michigan hauntings that have been "reported" in cemeteries, houses, woods, jails, businesses, neighborhoods...if you can name it, there's probably a haunting for it.
Take a look at the list of fifty Michigan hauntings below and come to your own conclusions.
Getting to Know Flint From A to Z
Whether you're new to the area or have lived here all your life, here's a look at what Flint has to offer, from A to Z.