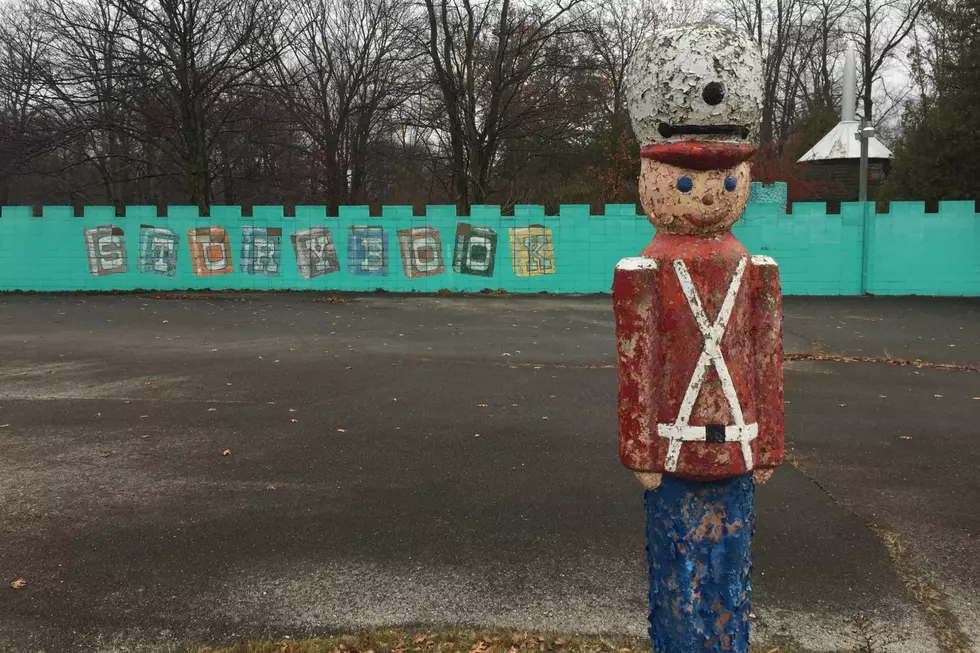 Michigan's Abandoned 'Deer Acres Fun Park' Will Give You All The Creeps
cchurch/TSM
Drive a few miles south of Pinconning on M-13 and you'll find yourself staring into the eyes of a deteriorating toy soldier.
That's how you know you've made it to Deer Acres Fun Park. One of the creepiest places that I've ever been.
***Editors note: I should have put this in the article when i first wrote it. You should NOT try to go into Deer Acres. You should absolutely not go in if you have any sort of intention of damaging property. I should not have gone in, but curiosity/nostalgia got the better of me.
The crazy part is that I actually remember going here as a kid, and it seemed mildly less creepy. Maybe I'm just seeing it through kid eyes though, and my mom was actually hoping I'd get eaten by one of the figurines . . . because it's safe to assume they come to life and eat kids periodically.
My family was driving home from a weekend away when I convinced everyone that going to Deer Acres would be a good idea. Both kids were hesitant when we drove by the roadside sign.
I reassured them that everything was fine, and parked in the lot. The park has obviously been closed for years, so I didn't think there was any way we would be able to walk in.
My kids are a little on the nervous side, and wanted nothing to do with the inside of the park. I told them that I would just walk up to the castle entrance and check the door. If it was locked, we could just leave.
IT WAS NOT LOCKED!
After a good ten minutes of convincing them everything would be fine, we walked in.
At this point, I might have been trying to convince myself that everything would be fine. This was not the place that my mom tried to lose me let me play at as a kid. This place was an insanely creepy (but cool) abandoned park.
The Magic Bus was one of the first things to stand out as you walk in.
It's also one of the more solid structures at Deer Acres. You can actually get up to the second level and wonder if you'll ever be able to get out again.
The whole premise of this park was based on old fairy tale stories. Jack & Jill, Little Miss Muffet, and the likes.
As a grown up you realize that most of these fairy tales are pretty creepy on their own, and the decaying visuals only reinforce that.
Jack and the Beanstalk are especially disturbing when you don't notice the giant in the stalk the first time you look at it.
Humpty Dumpty was definitely pushed based off the look on these guards.
There were some actual rides at the park when it was operational. A train that took you back in the woods was one I remember vividly.
Despite my good memories, I couldn't convince anyone in my family to walk down the old tracks while we were there.
I also couldn't get them to ride the Ferris Wheel.
After a while of walking around we noticed a storage garage.
Normally I would have just called it a day, but we decided to see if the garage was open. Surprisingly enough . . . it was.
If we were all slightly creeped out at what we saw during our walking tour, we were pushed over the edge by the garage.
I would have gotten more pics from the inside if I were wearing clean underwear.
The craziest part is that Deer Acres website says that the park is just under construction, and that they are planning on a car show this summer.
I can only assume that one of these statues came to life, found a working computer, and posted it as a rouse to get more kids in the door.
Or maybe they're just harmless statues . . . in the garage . . . waiting for their next chance to eat play with kids.