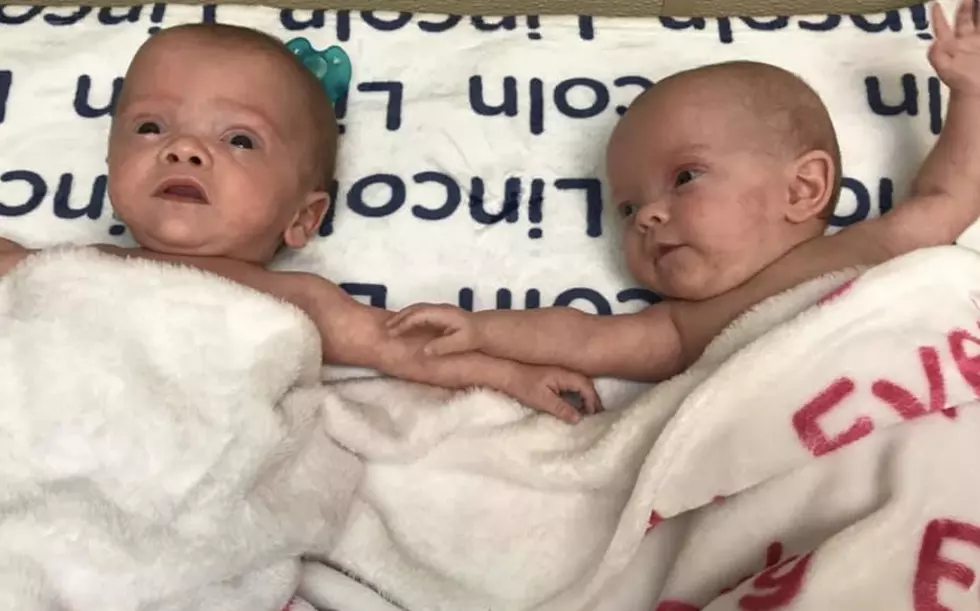 'Let's Make Miracles' Radiothon 2020: Katie & Adam Schaffer
courtesy of Adam & Katie Schaffer
Twins are fondly known as "double trouble," and Lincoln and Everly are no different than any other set of twins.
Katie and Adam Schaffer found out that they were expecting not one, but TWO babies, and it shouldn't have been much of a surprise - Adam is a twin, and it runs in the family. What they were not expecting, however, was for both babies to be born prematurely.
Lincoln and Everly were born 15 weeks early; Lincoln weighed in at one pound, six ounces, and was in the NICU for 98 days. Everly, his sister, was one pound, eleven ounces when she was born and spent 122 days in the NICU.
Katie and Adam weren't able to hold Lincoln until he was two weeks old; for Everly, it was closer to a month.
"You see how they were, their skin was see-through, and how they are now, and even the doctors are like, 'We can't believe that they were 24-weekers,'" Katie told us. "The nurses, they're like family to us. They got me through so much. I talk to them every single day, still."
This hour, we need to find need 15 Miracle Makers to help us purchase 72 Potato Head Packages for other NICU families. Can you donate and be a miracle maker? Text HURLEY to 51555 to donate, or call  877-719-5437 (KIDS)
Enter your number to get our free mobile app