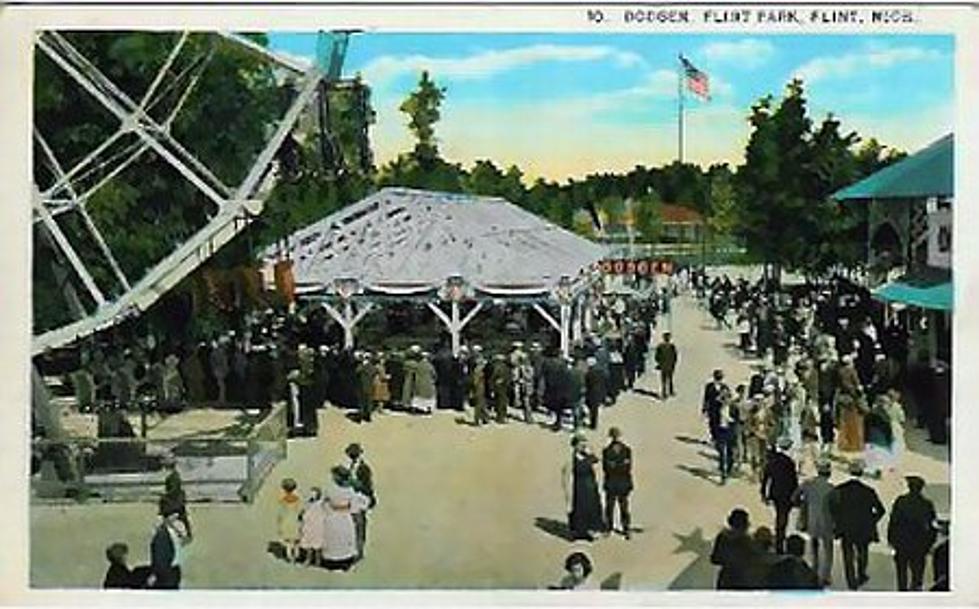 Flint Once Had its Own Amusement Park… and We're Not Talking About AutoWorld
Flint Park
Up until very recently, I thought AutoWorld was the only amusement park that ever called Flint home. I was wrong.
Back in the 50s and 60s, Flint was a pretty great place to be. Jobs were opening up quicker than the automakers could fill them and the city was growing exponentially. The population peaked at around 200,000 in 1960, making us the second biggest city in the state. Flint had a lot of things back then that present day Flint does not, like a booming economy and an amusement park known as Flint Park.
The outdoor amusement park opened in 1921 and sat on 40 acres of property on Flint's Northside near Stewart Avenue and Dupont Street next to Flint Park Lake, more commonly known as Devil's Lake these days.
Flint Park had at least 10 different rides over the course of its life, including a proper rollercoaster called the Jack Rabbit, a Ferris wheel, and a water ride. The park also hosted special events and performances from all kinds of artists, Ella Fitzgerald being the most recognizable name among that crowd.
Unfortunately, it wasn't all fun and games at Flint Park, as it had a pretty tumultuous and problematic go of it for the 40-years its gates were open. There were several accidents in the park, ranging from inconvenient to downright tragic. In its very first season, a fire destroyed parts of the concession stands and caused damage to some of the rides.
There were a pair of deaths that took place on the grounds as well. One man died as a result of injuries he sustained after standing on the rollercoaster, and another fell to his death on the stairs in the beer garden. The park also had another fire in the 1940s and sustained a lot of damage in the infamous 1953 F5 tornado, which killed 161 (in general, not at the park) and did a real number on the Jack Rabbit as well.
By the 1960s, offseason vandalism had become a real problem in the park, and the owners decided not to reopen in for the season in March of 1961. A few years later, the park was demolished.
It's crazy for me to think that Flint had a full-blown amusement park that I had never heard of before stumbling across it while looking for something else online. I was born less than 20 years after the park closed, so I'm baffled that I have literally never heard Flint Park mentioned before. I only missed it by a generation, so why is it that no one mentions Flint Park?
Did something awful happen there that our parents and grandparents don't want us to know about? Is there some town-wide conspiracy to cover-up a portion of ugly history like what the people of Springwood did with Freddy Krueger in the 'A Nightmare on Elm Street' movies? Probably not, but I like to make movie references and I don't have a better explanation. Who knows?
[SOURCES: Wikipedia, Water Winter Wonderland, Genesee County Parks, Revolvy, The Flint Journal (via Wikipedia)]
RELATED: GET ONE LAST LOOK AT FLINT'S PLAYLAND
RELATED: ABANDONED FLINT CENTRAL HS LOOKS LIKE A ZOMBIE MOVIE