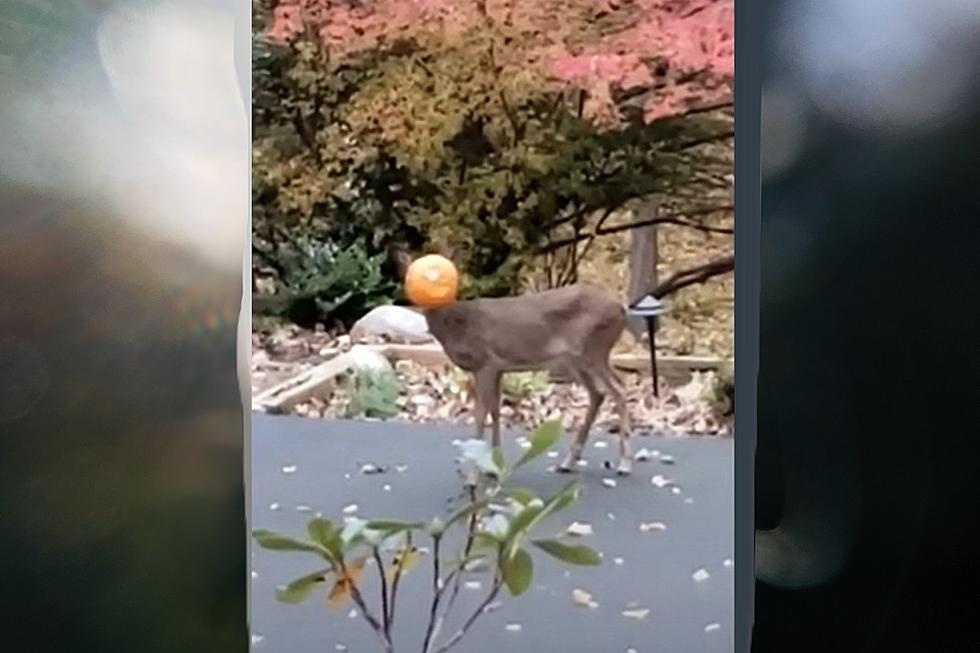 Poor Deer: Doe With Head Stuck in Pumpkin on the Loose in West Michigan [VIDEO]
Viral Seal via YouTube
A deer with a plastic pumpkin stuck on her head has been seen wandering around in West Michigan. Residents have reported seeing the animal in Cascade Township (on the southeast side of Grand Rapids), over the last couple of days.
Jeff Ott managed to capture the animal on video, submitting the clip to Grand Rapids TV station WZZM. Check it out in the video player below.
This Deer Seems to be Elusive
The Cascade Township Fire Department tells the TV station they've been trying to track down the animal in order to liberate her from the plastic pumpkin, but have not yet been able to do so. At one point the animal was temporarily captured but managed to kick the restraints free before they were able to free her from the Halloween decoration.
Not in Distress
Authorities believe the animal isn't in distress because she's standing upright and moving freely. However, they're issuing a warning, saying that residents should not approach the animal and should not attempt to free her themselves because deer hooves can be extremely sharp.
Oooh That Smell
The DNR says she was likely curious and probably attracted to the pumpkin because it still held the smell of candy.
Anyone who spots the animal is asked to call the Cascade Township Fire Department at 616-949-1320.
If you or someone you know is a veteran, let us express our thanks. Check out these discounts and freebies being offered to vets and military personnel on Veteran's Day.
Veteran's Day Discounts & Freebies
As we take a day to honor those who've proudly served our country, we've assembled a list of discounts and freebies available to Veterans this year.
From Applebee's to White Castle, many restaurants are offering free meals to veterans. There are also several retail chains like Walgreens and Target that are offering discounts on select merchandise.
Let us know if we missed a great deal and we'll be sure to include it here.
Note that all offers are subject to change and some restrictions apply. Some offers are being made available to military veterans while others are being extended to active duty personnel and their families. Please check with individual retailers for complete details.
Check Out the Harper House, a Rare Frank Lloyd Wright Home in Michigan
The Harper House is a stunning home with an incredible view of Lake Michigan. It's believed to be one of just a few Michigan homes designed by legendary architect Frank Lloyd Wright.
There are conflicting accounts of the home's age online; it was either built in 1950 or 1959. If the latter is true, this would make it the last home in Michigan to be designed by Wright.
According to the listing, it features Tidewater Cypress and Chicago Common Brick, mitered glass corners, several pieces of built-in furniture, cedar-lined closets, and more. It is simply breathtaking.
The property is reputed to rarely go on the market, but it was just listed for sale by by Anne Gain of
@Properties
.