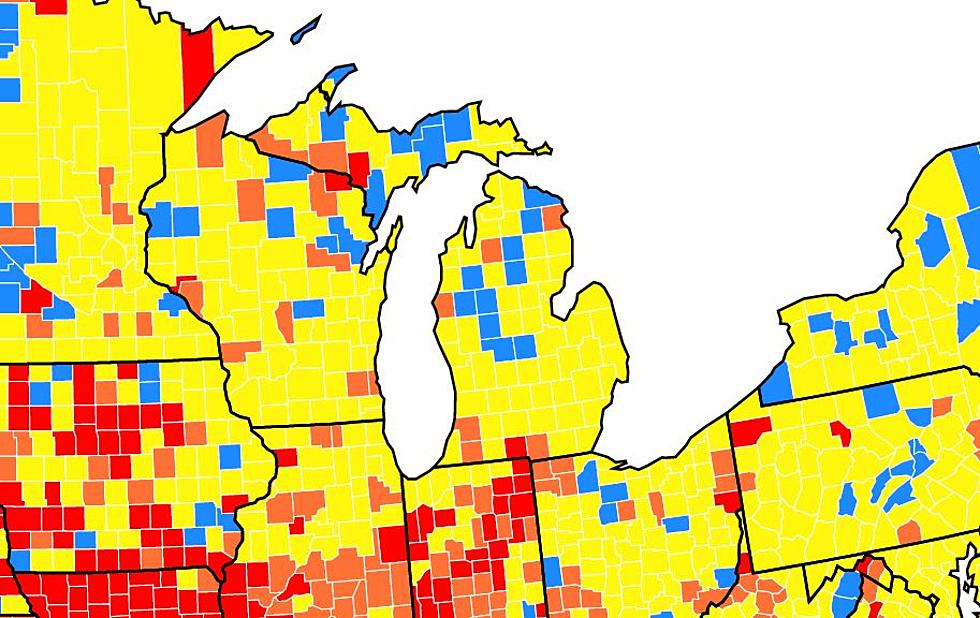 Which Michigan Counties Are Subject To The New CDC Mask Guidelines?
CDC Covid-19 Spread Map | Red = high spread, Orange = substantial, Yellow = moderate, Blue = low
Yesterday the CDC announced that it was reinstating mask recommendations, even for those fully vaccinated, in areas across the country that are seeing 'High' or 'Substantial' community transmission of Covid-19. Luckily for Michigan, most of the state is at a 'Moderate' or 'Low' transmission rate.
Although the governor has stated it's unlikely for mask mandates to return in Michigan, there are some counties in the 'High' & 'Substantial' Covid-19 categories in Michigan.
Substantial
Van Buren County
Cass County
Hillsdale County
Alpena County
Kalkaska County
Mason County
Iron County
Gogebic County
High
Branch County
Dickinson County
Currently, West Michigan counties, including Kent, Ottawa, Muskegon, & Allegan, are in the 'Moderate' category, but as transmission rates increase due to the highly transmissible Delta Variant of Covid-19, that could change.
Also, the CDC has recommended universal indoor masking for all teachers, staff, students, and visitors to K-12 schools, regardless of vaccination status.
Safer Activities for You and Your Family via the CDC
Friends and family grilling outside
If you are fully vaccinated, you can participate in many of the activities that you did before the pandemic.
To maximize protection from the Delta variant and prevent possibly spreading it to others, wear a mask indoors in public if you are in an area of substantial or high transmission.
Wearing a mask is most important if you have a weakened immune system or if, because of your age or an underlying medical condition, you are at increased risk for severe disease, or if someone in your household has a weakened immune system, is at increased risk for severe disease, or is unvaccinated. If this applies to you or your household, you might choose to wear a mask regardless of the level of transmission in your area.
You should continue to wear a mask where required by laws, rules, regulations, or local guidance.
Social Distancing Zodiac
READ MORE: Here are 50 ways you can improve your work from home lifestyle