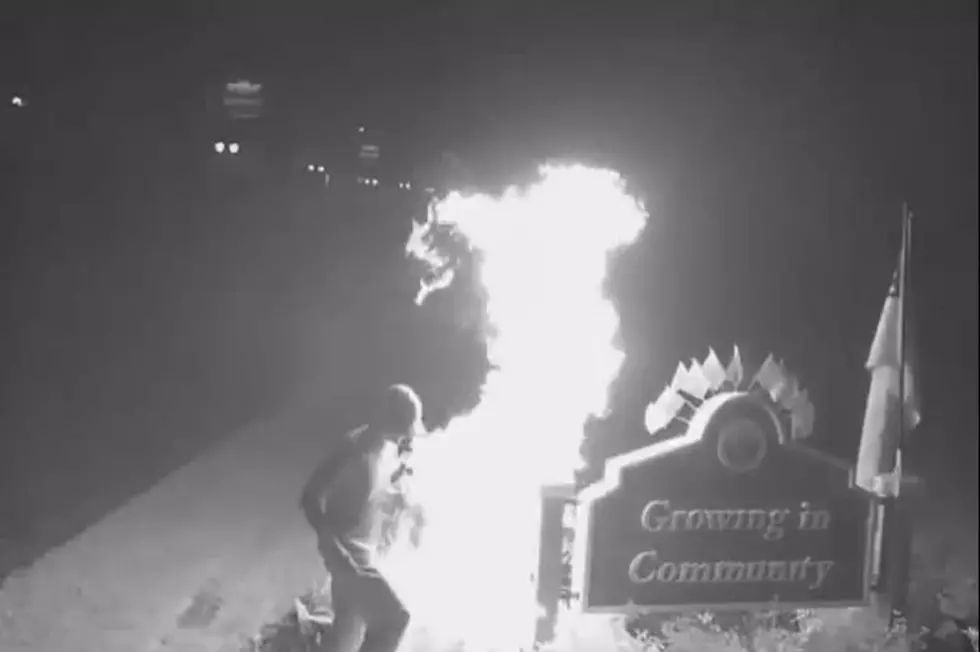 Disturbing Video Shows Man Torching Pride Flag in Lansing
Fox 2 Detroit
A man in Lansing was recently caught on camera dousing a pride flag with some sort of flammable liquid right before lighting it on fire.
According to Fox 2 Detroit, the flag was on display next to an American flag on a sign that reads 'Growing in Community' on Michigan Ave when he walked up, shook what looked like lighter fluid onto the flag, and then ignited it from the bottom.
That flag went up in flames so fast and right in the guy's face. I'm not going to lie, I hope that fire burned off both that dude's eyebrows.
The incident took place on June28, one of the last days of Pride Month.
The video below is really disturbing because the guy just walks up to it all calm, cool, and collective and sets it on fire.
Apparently this wasn't the first time someone destroyed a flag during Pride Month. That's the reason Monica Wright mounted the camera in the first place.
Monica Wright:
Several of the flags have been sawed off, and the torching of the flag was something that we knew could happen, but never thought we would see.
It's really hard for me to wrap my head around the reason for this kind of behavior, hate, and destruction. I just don't get it. This guy gains nothing from burning that flag. There's literally no point to it.
Obviously, he just hates what the flag represents and burning it gives him some kind sick satisfaction. I don't know, my brain doesn't work like that.
Anyone with information is asked to call: Lansing Police Department (517) 483-4600.
14 Famous and Notable People from Lansing, Michigan
Michigan has produced many celebrities and famous people over the years. Check out 14 famous or notable people born in the state Capital of Lansing, Michigan here.
Artists Wearing the American Flag
See rock's biggest stars sporting the red, white and blue.
19 Red Flags to Watch Out for From Anyone Claiming to be a True Michigander
If someone says any of these statements to you, run. They are not a true Michigander, even if they claim to be. Now, some of these statements may seem innocuous, but really they are HUGE red flags to anyone who knows better.