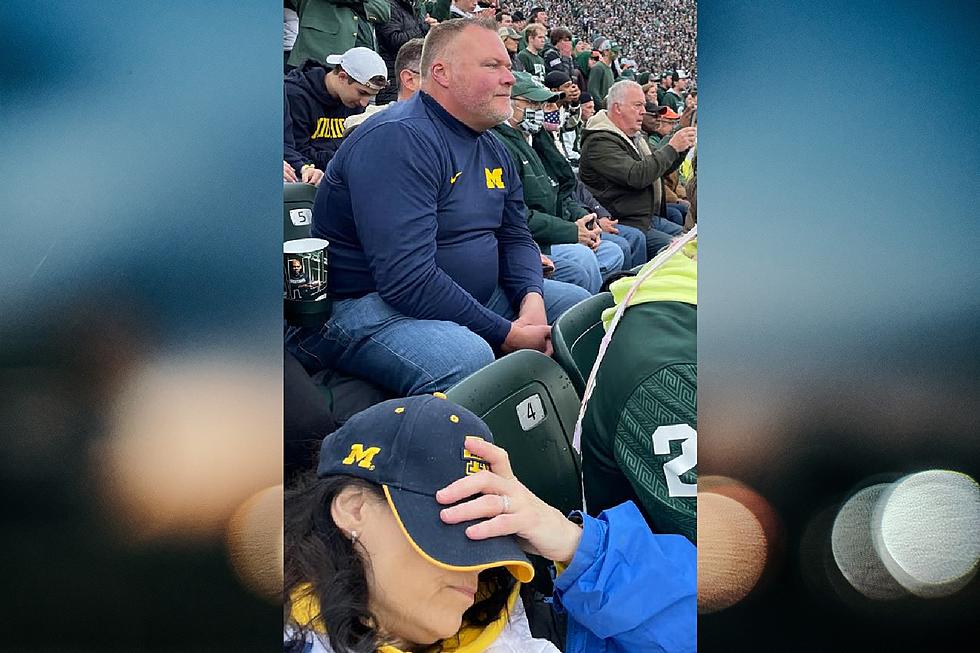 Michigan AG Dana Nessel Says She Drank Too Much at Football Pregame Party
Dana Nessel via Facebook
Michigan Attorney General Dana Nessel is human. She drank too much booze before the Michigan-Michigan State game last month and she's owning up to it.
"I might be a terrible bartender," Nessel says in a Facebook post.
The tongue-in-cheek Facebook confession starts off by saying that her staff has been pleading with her to hire a crisis-management PR firm to explain away the day's events and the photo taken on October 30th.
The AG is seen slouched down in her seat at the game with a Maze and Blue Michigan cap covering her face. Hey, at least it's a Michigan cap!
What really bothers me is Nessel's erroneous use of apostrophes to pluralize words:
"Before the big game, I attended a tailgate on an empty stomach. Much to my surprise, MSU tailgate's tend to have more alcohol than food, so I thought it seemed like a good idea to eat 2 Bloody Mary's, since as long as you put enough vegetables in them, it's practically a salad," Nessel said.  "As it turned out, this was not a brilliant idea."
She then quips that her friends told her that Michigan "definitely won" the game (MSU actually topped U of M 37-33) and then "laid low" (technically, another grammatical mistake) before deciding it was in everyone's best interest to leave.
"...my friends recommended that I leave so as to prevent me from vomiting on any of my constituents (polling consistently shows "Roman showers" to be unpopular among most demographics)."
Nessel notes that she got home thanks to a designated driver and vows to never again drink on an empty stomach or have another Bloody Mary.
SEE ALSO:  Donors Help Student Whose Vehicle Was Destroyed After Michigan-Michigan State Game
Yeah, we've all been there and we've all made those promises.
Of course, the comments are a mixed bag of people who understand that she's only human and those who are quick to criticize.
Group of Historic Mansions for Sale in Michigan's Upper Peninsula
It's like owing your own little town! The ultimate package deal awaits the perfect buyer. Take a look at the these beautiful historic mansions being sold together. The homes, built in the late 1800's to early 1900's, total over 35,000 square feet and are located over 2.25 acres in Laurium, Michigan. Total price? $3,499,000.
15 Most Important Games In The Michigan vs Michigan State Rivalry
Michigan and Michigan State have been battling it out on the gridiron since 1898. You can imagine that playing each other for that long will lead to a pretty heated rivalry. The Michigan / Michigan State rivalry is one of the best in all of sports. There have been many moments that helped to build that rivalry over the years. Check out 15 of the most important games over the decades of the Backyard Brawl.