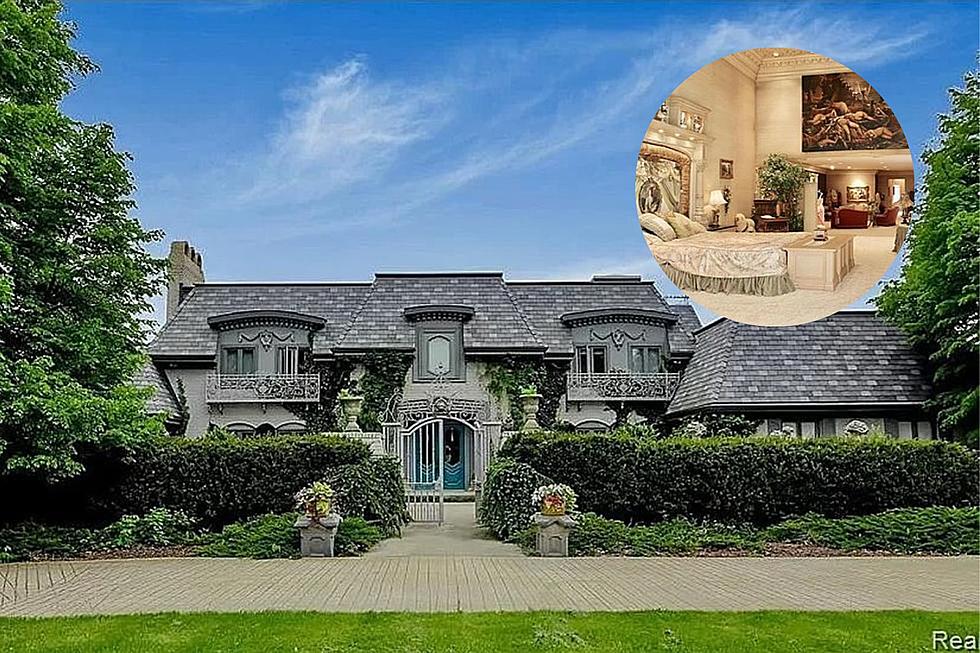 A Nostalgic Look Back Inside the Legendary Auker Mansion of Grand Blanc
ZIllow with Canva
It's almost like one of those stories that kids tell when they are trying to scare their friends. The big house with the large gates keeping everyone out...it must be haunted have some sinister past, and everyone wants to take a look inside. Anyone that travels down Belsay Road in Grand Blanc has passed by the large stately home with the big gates.
Known to most as the Auker Mansion, there has always been speculation as to what really lies behind the ornate gates that keep guard over the sprawling house. Although sold in January 2021 for $1.7 million, people still love to think about what it was like when the original owner lived there.
Owned most notably by builder and developer Eldon Auker, the Gatsby-style mansion, think art museum vibe. Something of a collector's showplace, it was once rumored to be sought after by none other than rocker Bob Seger. Those rumors have circulated around Grand Blanc since the early 80s and turned out to be nothing but that...rumors. Since it was sold, it's hard to know if the new occupants changed the decor or overall look of the home from what it once was, and what it once was, was magnificent in an eccentric type of way. When on the market the Zillow listing described it as,
 "Unrivaled French Architecture & detail throughout- tufted velvet rails, hand-bent wood spiral staircase, marble floors, silk padded walls, 9 fireplaces, exquisite moldings, imported hand-carved doors, leaded glass French doors, intricate ceilings, antique brick pavers, crystal chandeliers, malachite accented bath fixtures & solid doors."
Years ago I attended a private party at the home as a guest of Mr. Auker before he passed away. The home itself was like a museum, but it was the master suite that blew me away. Measuring 3000 sq. feet itself, which is about the size of an average home in Michigan,  it included soaring 20-foot ceilings, a sitting area, two fireplaces, and a sauna. The home resembled something that royalty would live in.
The 14,439 square foot estate also includes antique barns with stalls and tack room, towering lofts with over 20,000 sq. feet of space, a theatre, a wine cellar, and two complete attached apartments with a private entrance.
Take a look inside the Auker mansion as it was just a few years ago prior to the sale.
A Nostalgic Look Back Inside the Infamous Auker Mansion of Grand Blanc
The big house with the large gates on Belsay Road in Grand Blanc, Michigan has been as mysterious as the man who built the massive 14,000+ square foot home that resembled more of a palace than a Midwest home. The late builder Eldon Auker was known for his creativity and flamboyance on some levels, his mansion reflected every bit of that. With its 20 foot ceilings, majestic staircase, and a 3000 square foot bedroom, the home was a showplace. Sold in 2020, it's hard to know if changes were made to the once amazing estate, but it's exciting to be able to take a little look back in time to what once was.
Live Like A Storybook Character Inside the This Iconic Charlevoix Mushroom House
If you head to Charlevoix, Michigan you are sure to see the unique row of 4 Mushroom Homes situated on Park Avenue. The homes are the creation of artist design by Michigan-born builder/ architect Earl Young, the homes have become a bit of a tourist destination. Always something to marvel at with their storybook, Hobbit cottage-like appearance, the homes have become legendary, and now one can become yours. The Thatch House is now for sale for $5,200,000 and offers 7 bedrooms, 7 bathrooms, and 6000 square feet of whimsical living space. Take a look inside what can be your very own fairytale home.
The Ultimate Michigan Glamping Guide: 10 Places You're Just Going to Love
Ahhh, the great outdoors. Who doesn't love it? Well, let's just say some of us, but that doesn't mean we don't love getting in touch with nature. Welcome to the world of Glamping. It's camping with just a little more finesse to make spending the night outside a little more tolerable and fun. Michigan has some great Airbnbs designed just for those looking to take traditional camping to a little more civilized level.