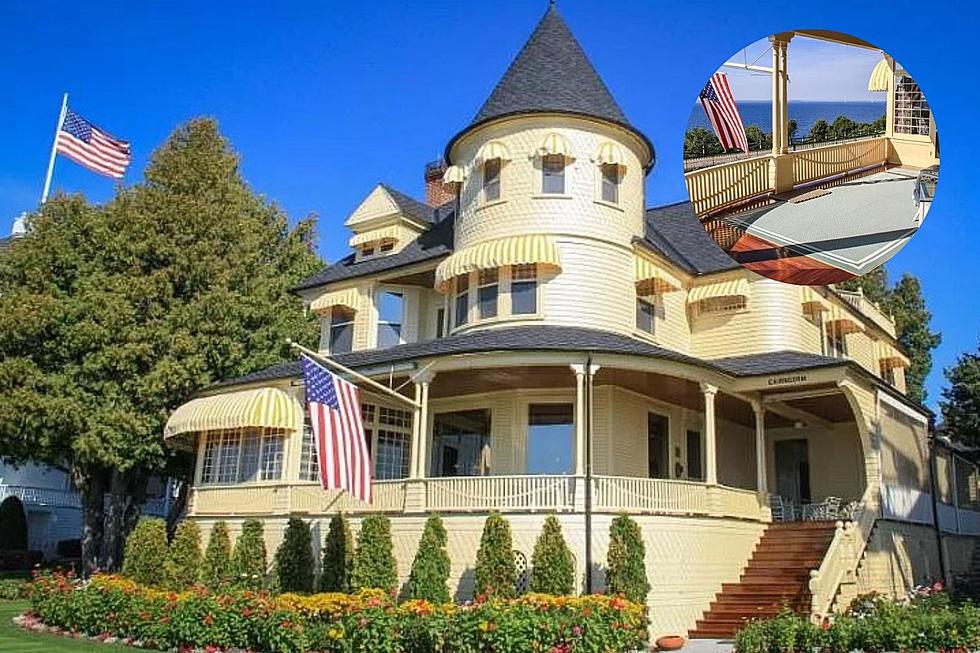 Historic Mackinac Island Estate Is Like Owning Your Own Mini Grand Hotel
Realtor.com
Mackinac Island....is there anything more Pure Michigan than that? The infamous island that has tourists flocking every summer to indulge in its beauty and horsedrawn carriage charm is Michigan's little piece of magic. Although a hot spot to visit, there are about 500 full-year residents of Mackinac Island.
Living on the island does have its challenges, especially in the winter, but the advantages when your home happens to be something spectacular are worth a few months of bitter cold. The island is filled with incredible historic homes that look as if time stood still. Most have been in families for generations, and it's rare to find one that's for sale, but once in a while, a real treasure comes along.
Cairngorm Cottage
Currently on the market is a gorgeous Victorian Cottage known as Cairngorm, Built in 1888, the estate resembles a mini Grand Hotel, complete with a winding porch. Located at 7989 Algonquin St. on Mackinac Island's West Bluff, owning the home would have you enjoying the serenity of the island, but still close enough to indulge in all the excitement of the downtown area.
According to the listing, the 8000 square foot home has been completely renovated and comes completely decorated with furnishings collected by the previous owner, who has lived there since he was 8 years old, for the last 75 years.
Listed for $4,985,000, the home is offered fully furnished with 7 bedrooms, 6 baths main cottage, plus completely furnished 2 bedrooms, 2 bath Carriage house behind the estate. That area is perfect for housing your horses and a carriage for making your way around the automobile-free island.
Calling this Mackinac Island estate home would result in easy summer nights relaxing on the oversized porch with a killer view, or enjoying the beautifully landscaped grounds. The backyard includes a swimming pool, Jacuzzi, gazebo, and stone-terraced gardens to complete the full "wow" vibe.
Ready to call the island home? Contact the listing agent, Larry Rellinger at Rellinger & Associates, and get ready to call Coirngorm Cottage home.
Take a look at this mini Grand Hotel below.
Historic Mackinac Island Estate Can Be Your Own Private Grand Hotel For $5M
It's not the Grand Hotel, but it sure looks like a miniature version, porch and all. Cairngorm Cottage, built in 1888, is an 8,000 square foot Mackinac Island West Bluff Victorian era home currently on the market for $5,150,000. It features beautifully renovated and decorated rooms that come completely furnished with the selling price. The estate features 7 bedrooms, 6 bathrooms, plus a completely furnished 2 bedroom, 2 bath carriage house behind the home. In addition to the magnificent porch with a breathtaking view, the new owner will enjoy a beautifully landscaped backyard with a swimming pool, Jacuzzi, gazebo, and stone terraced gardens. This piece of Michigan history is a must-see. Take a look!
$8.3M Charlevoix Dream Home with Unique Private Aquatic Garage
If there was ever a boaters paradise, this is it! This multi-million dollar Charlevoix home comes complete with an aquatic garage with space for multiple yachts. Listed by the owner for $8,350,000 the 10,000+ square foot home is a mariner's dream. Inside you'll find 5 bedrooms, 11 bathrooms, and a massive crow's nest area with a fantastic view of the lake. The home is truly amazing, but the aquatic garage is the real magic. Large enough to house multiple boats and yachts. Take a look inside!