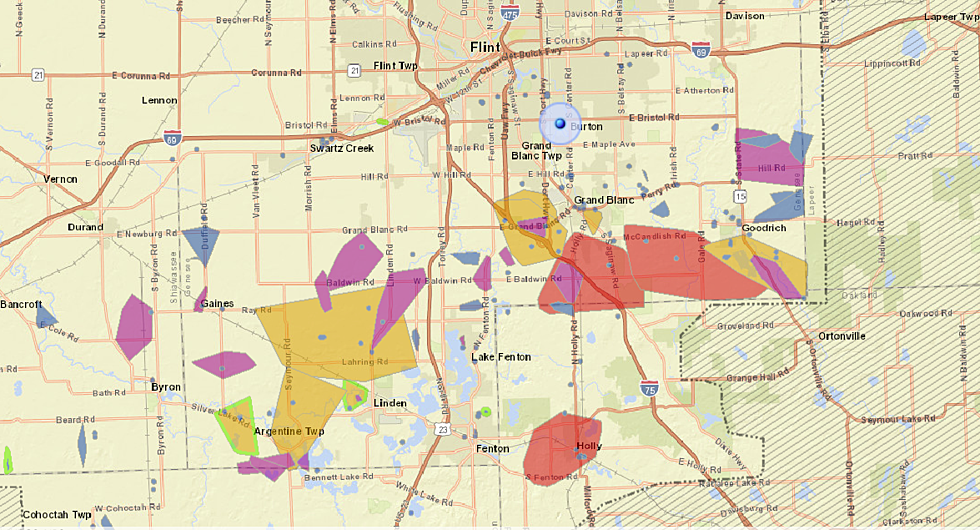 Consumers Energy Reports Numerous Power Outages as Storms Roll Through Mid Michigan
Consumers Energy Outage map
As severe thunderstorms roll through the Flint area for the second time in three days, many Consumers Energy customers are without power.
Strong winds have knocked down power lines from Gaines Township to Ortonville, leaving many without electricity.
Most power outages are in the southern-most parts of Genesee County, primarily south of the city of Flint. The map above shows power outages reported by Consumers Energy as of 2:45 pm.
Below, you'll see a map of more than 20 areas in Genesee County where arcing and/or down power lines have been reported.
Consumers Energy reports that approximately 14,000 customers are without electricity. The estimate for power restoration varies by location.
Click here to see real-time updates.
The Scenic Beauty Of Northeast Michigan
Big Seven Travel has named the
River Road National Scenic Byway
as Michigan's "Most Scenic Drive" for 2021. It is a gorgeous stretch of road filled with forests, trails, scenic overlooks and runs parallel to the historic Au Sable River