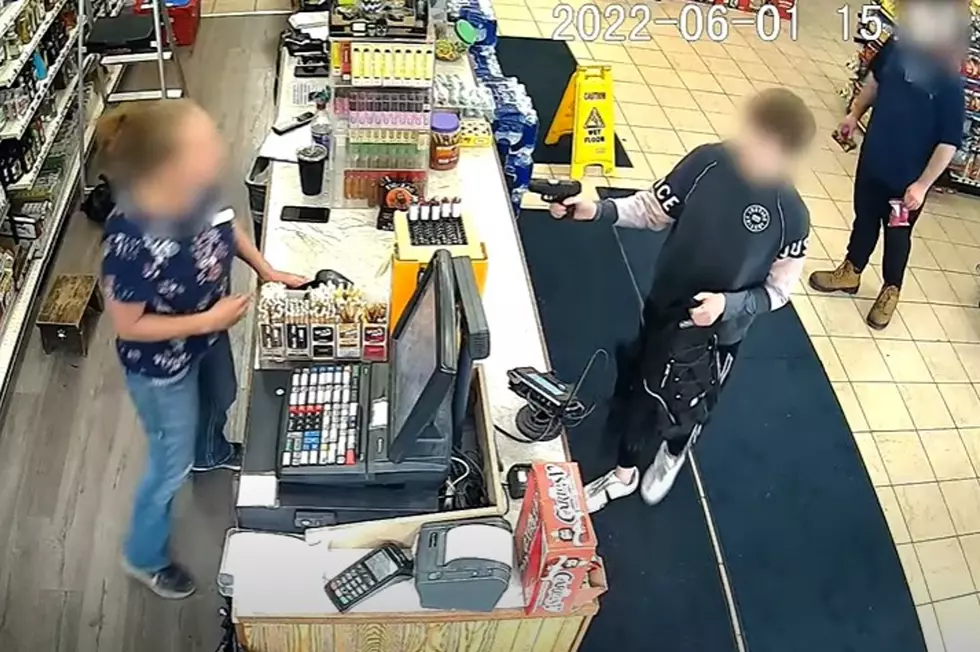 Video Shows 12-Year-Old Robbing Michigan Gas Station at Gunpoint
Wood TV8 YouTube
A 12 year-old boy was caught earlier this week on surveillance video robbing a gas station at gunpoint in Van Buren County.
This surveillance video is so crazy. It shows the boy standing in line waiting to confront the store clerk. He walks up to the counter and points a gun at the clerk and says "put the money in the bag." The clerk was obviously in disbelief and said "are you serious?" He then points the gun at the ceiling, fires off a round, and replies "yeah." She gives him $5,000 and he calmly walks out of the gas station.
The incident took place at around 3:30 pm on Wednesday.
According to UpNorthLive, the Hartford Middle School student faces six charges, including armed robbery, assault with a dangerous weapon, discharge of a firearm in a building and three counts of felony firearm.
The Hartford Police managed to track him down just a few blocks from the gas station.
Where Did This Kid Get a Gun?
Apparently, the boy took the gun from his father's gun safe. He somehow got the code, opened it up, and took the gun.
While in school that very same day, he told another student that he was going to rob a gas station but that student didn't take him seriously.
The boy could be sentenced as an adult, if convicted.
It's crazy how calm he remained the entire time. He wasn't even trying to hide his face, It's almost like he wanted to get caught or something.
Nine Detroit-Area Jail Reviews That Will Give You A Chuckle
Sometimes scrolling through the reviews section is so worth it. These nine reviews of Detroit-area jails did not disappoint.
Six MI Serial Killers That Are Currently Serving Life in Prison
Michigan does have a lot of great history, but also some dark sides too. Below you will find six Michigan serial killers that are currently serving life sentences.
Ten Funny Reviews of the Genesee County Jail
Have you ever read the reviews from the Genesee County Jail? Here are what I think are the ten funniest reviews of the jail from those that have been locked up.