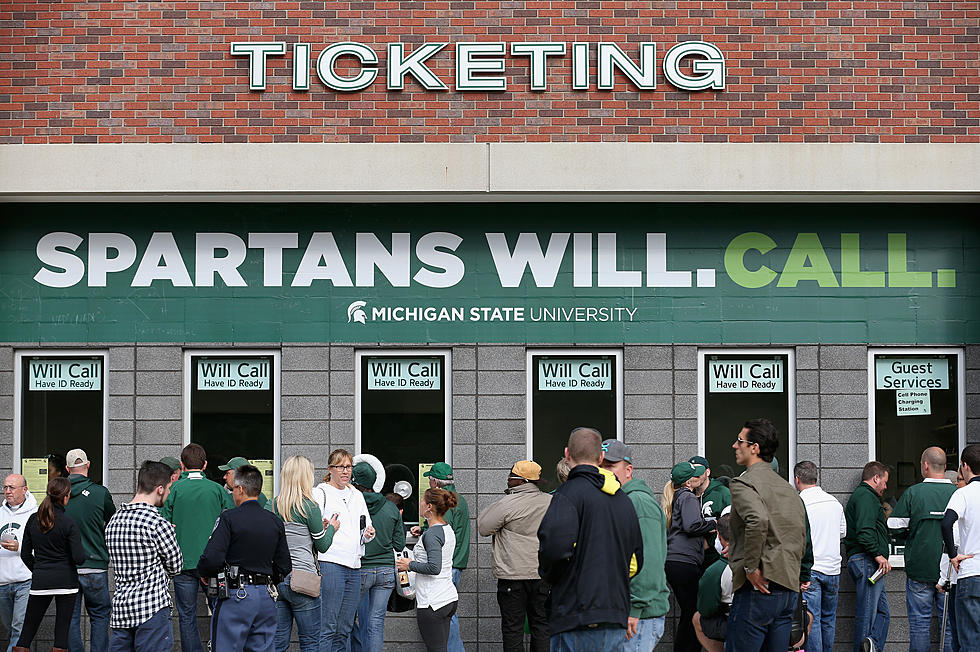 Tickets For Michigan vs Michigan State are Getting Crazy Expensive
Getty Images
Tickets for the Michigan / Michigan State game this weekend are getting so expensive that MSU issued a fraudulent ticket alert.
Tickets to see a Michigan vs Michigan State football game are never the easiest thing to get, but this year is proving to be especially difficult. The two teams haven't both been ranked this high for a meeting since 1956. The buzz around this game continues to grow, and the ticket prices are growing right along with it.
The Michigan State box office is out of tickets for sale, and they are sending buyers to Stub Hub. They have also issued a Fraudulent Ticket Warning for any potential buyers.
We have received reports of ticket fraud and scams. The Spartan Ticket Office cannot guarantee the validity of tickets purchased through any entity other than the Spartan Ticket Office and StubHub. To avoid problems with counterfeit, stolen, or inflated-priced tickets, purchase tickets directly and only from the Spartan Ticket Office, StubHub, or msuspartans.com. DO NOT PHOTOGRAPH OR OTHERWISE SHARE YOUR BARCODE ON SOCIAL MEDIA.

 
So how expensive are tickets to the game?
Since the official box office is out of tickets, you have to go to a third party seller like Stubhub. Simply by sorting tickets from lowest price to highest, you can see that the cheapest ticket is $225  . . . for one ticket. Keep in mind that's more than the price for student and former student season tickets.
If you're feeling a little extra saucy, you can spend up to $1,700 for stadium club seats on the 50 yard line.
Why are the tickets so expensive?
There are actually a lot of factors that are driving up ticket prices for this game.
Both Michigan and Michigan State are undefeated and ranked in the top 10
No fans were allowed to attend the last meeting due to covid restrictions.
Both big NCAA Football pre-game shows have announced that they will be broadcasting in East Lansing before the game.
The hype that these two shows bring to any college campus is unmatched. This will guarantee that East Lansing will be full of fans despite having tickets. So many people will be flocking to the campus just to be on TV in the background of these two shows.
The big question is, are you going to shell out the money for a ticket or just watch from home?
Either way you should brush up on your knowledge of the history between the two rivals. You can check out the 15 most important moments in the Michigan/Michigan State rivalry below.
15 Most Important Games In The Michigan vs Michigan State Rivalry
Michigan and Michigan State have been battling it out on the gridiron since 1898. You can imagine that playing each other for that long will lead to a pretty heated rivalry. The Michigan / Michigan State rivalry is one of the best in all of sports. There have been many moments that helped to build that rivalry over the years. Check out 15 of the most important games over the decades of the Backyard Brawl.
Best Summer Picnic Spots on Michigan State University's Campus
Michigan State has one of the most beautiful college campuses in the country. We went around and took pictures to show you a few spots where you might want to put a picnic blanket down and sit for a while to enjoy the gorgeous summer weather.