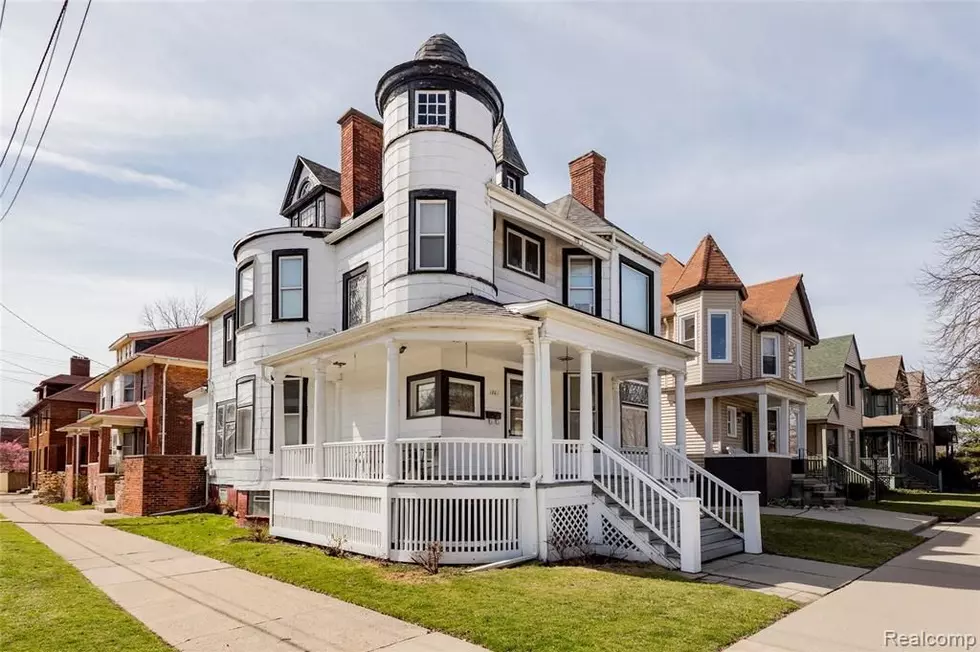 This Charming Old Home Was Built for the First Owner of the Detroit Tigers
Lauren Bruyninga, O'Connor Realty via Zillow
There's a lot of history in this charming old house located in Detroit's historic Corktown neighborhood. It was built for the first owner of the one and only Detroit Tigers.
Who is James Burns?
James Burns was the first owner of the Detroit Tigers ball club. He and his partner George Stallings made an initial investment of $12,000 in the team and then led the club to major league status in 1901. After the inaugural season, Burns sold his share of the Tigers for $20,000 in 1902.
SEE ALSO:  Inside Aretha Franklin's Historic Detroit Home
He went on to become the Wayne County Sheriff and owned numerous hotels, restaurants, and bars in the Detroit area before his death in 1928.
Historic Corktown Home
Burns' home at 1801 Church St. in Detroit's historic Corktown neighborhood is a little slice of MLB history. The 2,900 spare foot home was built in the late 1800s and features four bedrooms and two full baths. It's listed for $699.000.
It's one of the largest homes in the neighborhood and according to the listing has been meticulously cared for. It features a huge wrap-around porch and it's "brimming with architectural details" like glazed tile, natural brick fireplaces, and in-tact leaded glass windows.
The home is heated with steam - so be sure to check out the original iron radiators in the bedroom and living room area.
It also features the original molding as well as a beautiful foyer and staircase and French doors. There's even a walk-up attic space that could be converted to an additional bedroom or creative space.
Check Out This Charming Corktown Home Built for the Detroit Tigers' First Owner
This charming old home in Detroit's historic Corktown neighborhood was built in the late 1800s by James Burns. Burns was the first owner of the Detroit Tigers, owning the ball club from 1901 to 1902.
The 5 Top Selling Vehicles in Michigan
Go Banking decided to get to work to discover what Americans are choosing as their favorite vehicles from state to state. From lifestyles to terrain, to weather and gas prices, each state has its popular selection as to what to drive.
To find the cost to own the most popular cars in each state, GOBankingRates referenced pricing and sales data from car-research site Edmunds. Overall, the most popular vehicles in each state generally run in the $28,000 to $32,000 range, but there are some notable exceptions with extras and premium models.
Take a look at Michigan's Top 5.
Friends Themed House Goes on the Market for $135k in Dayton, Ohio