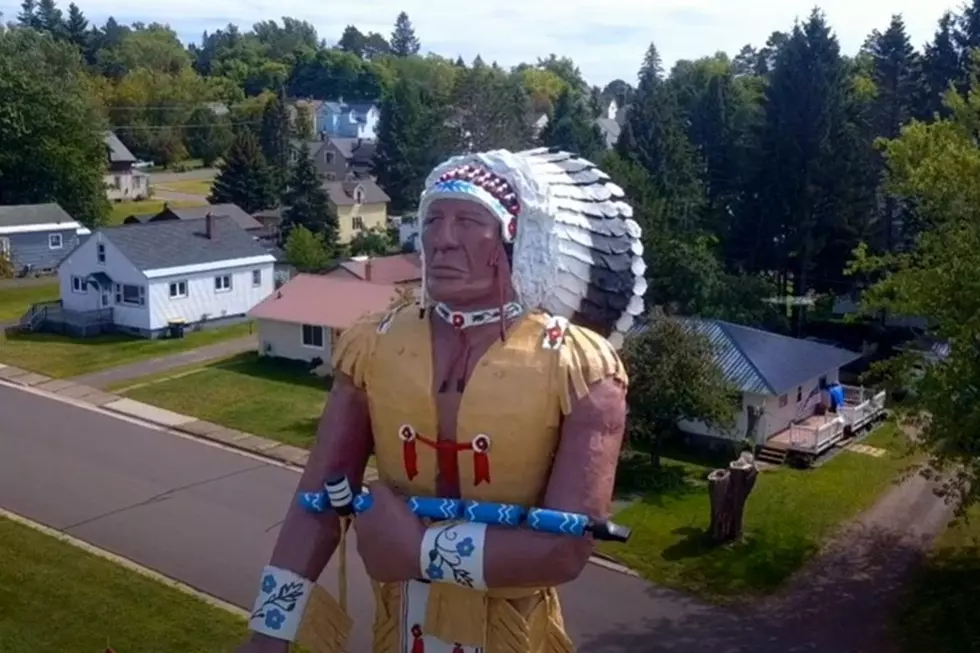 Ironwood, MI Is Home to the World's Tallest Native American
The Flying Finn via YouTube
If you've ever been to Ironwood in Michigan's Upper Peninsula, you've more than likely noticed a giant Native American statue that towers over the community.
How Tall is the Hiawatha Statue?
The Hiawatha statue stands 52′ tall and is made entirely of fiberglass. Just to give you an idea of how tall 52' is, let's compare it to other things that are roughly that height.
Five-story building.
The famous Hollywood sign (45' letters).
Semi truck trailer.
9 people standing on one another.
My point is, this statue is freaking huge.
When Was The Hiawatha Statue Built?
Ironwood's Hiawatha Statue was built in 1964. The idea came from Charles Gotta, an Ironwood automobile dealer, who had seen similar forms of "road art" while traveling through Minnesota.
According to the Ironwood Chamber, the 52′ tall statue in 2019 underwent a $25K complete structural repair and repainting by the F.A.S.T. Corporation of Sparta, WI –one of the very few firms nationally that still makes and repairs these types of structures.
Who Was Hiawatha?
Hiawatha, also known as Ayenwathaaa or Aiionwatha, was a precolonial Native American leader and co-founder of the Iroquois Confederacy. He was a real person but he's mostly known through legend. He passed away in 1595.
I've never been to Ironwood but I've heard about the Hiawatha statue since I was a little kid. I always remember my dad telling me about "a giant Indian" that was located in the Upper Peninsula. It wasn't until I was older that I realized it was a statue and not an actual person.
12 Unique Things to See in Michigan's U.P. That Aren't Waterfalls
There is so much more to Michigan's Upper Peninsula than just waterfalls and lighthouses.
16 Famous or Notable People Born in Michigan's Upper Peninsula
Michigan has unleashed a lot of talent into the world. Check out these 16 famous and/or notable people that were born in Michigan's Upper Peninsula.
Frying Pan Island for Sale in Michigan's Upper Peninsula
For $580,000 you could own Frying Pan Island, a 3-acre island that sits in Michigan's Upper Peninsula.
24 Bridges to Enter the Upper Peninsula of Michigan that Aren't the Mighty Mac
Some people just don't enjoy crossing the majestic Mackinac Bridge. For others it's not in the route of thier travel. There are at least 24 other bridges that travelers can use to enter Michigan's Upper Peninsula. Here they are from east to west