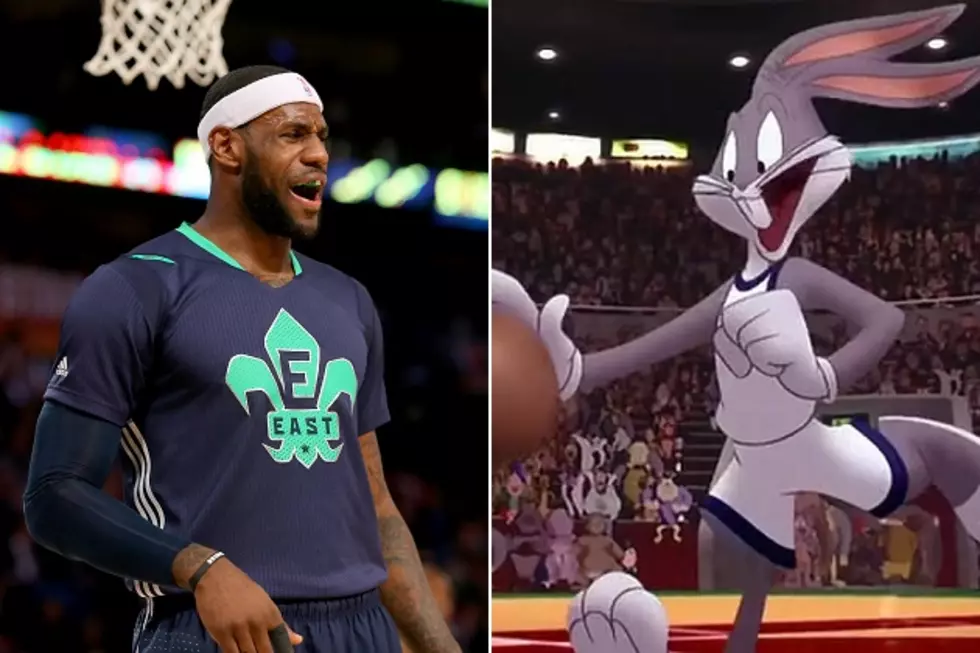 'Space Jam 2′ is Moving Forward with LeBron James
Getty Images, Warner Brothers
LeBron James has long been compared to Michael Jordan as he's one of the most gifted players in basketball today. Those comparisons will now extend to cinema as James has signed on for 'Space Jam 2,' a sequel to the film that had MJ playing basketball with Bugs Bunny and the other members of the Looney Tunes.
This news comes from Deadline Hollywood, and it's a pretty terrible idea. To start with, James -- considering his "Decision" to move from the Cleveland Cavaliers to the Miami Heat that left a bitter taste in many fans mouths -- is not as universally loved as Jordan, though James' popularity has rebounded since then. But besides that, James hasn't shown any great acting acumen: He's gotten better at commercials, but his appearance on 'SNL' was pretty bad, and he's likely to be playing himself.
But more than the stunt casting, it's worth noting that the original 'Space Jam' is an aggressively terrible movie that plays like a filmed version of a Harlem Globetrotters game, and likely only appeals to die-hard Chicago Bulls fans, and/or people who grew up on the movie and love the movie for nostalgia's sake. To be fair, both Roger Ebert and Gene Siskel gave it two thumbs up at the time, though they were from Chicago and were Bulls fans.
UPDATE: According to ESPN reporter Brian Windhorst, reps for LeBron James denounce the original report.
Whatever, it will probably make a ton of money anyway. But until it hits theaters, you can always entertain yourself looking over the first film's website, which is (for whatever reason) still online