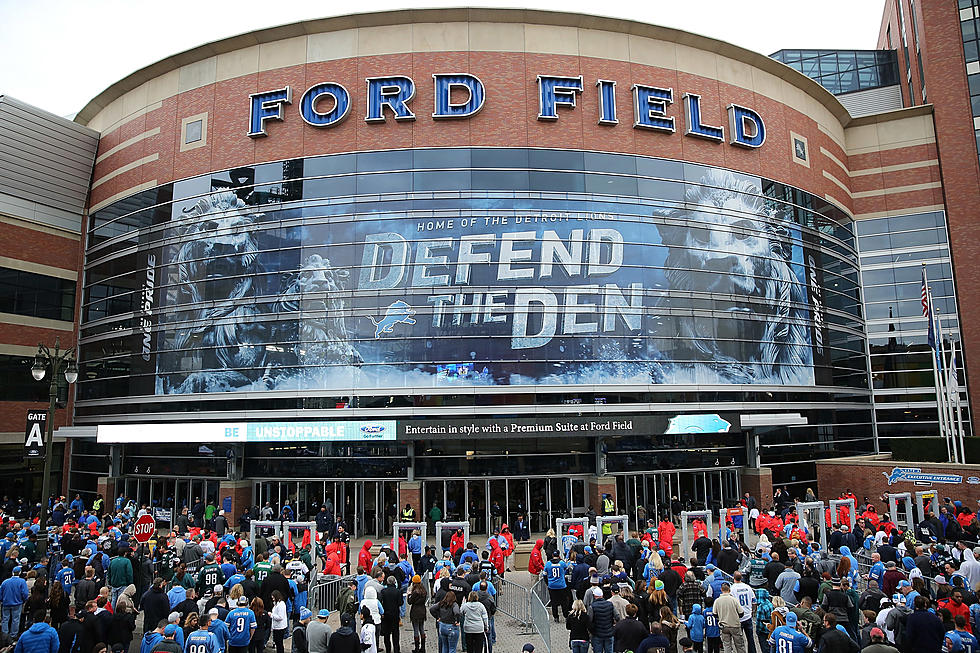 Since 1934, the Detroit Lions are 37-42-2 on Thanksgiving Day
Getty Images
The Detroit Lions have been playing on Thanksgiving Day since 1934.
Turkey, stuffing, and the Detroit Lions are staples when it comes to Thanksgiving Day throughout the nation. Since 1934, the Detroit Lions have been hosting games on Thanksgiving Day.
Now you may be asking, how did this tradition start? Well, it was basically a money grab. The Lions had a great team but couldn't sell any tickets at the time. So, the owners at the time decided to model a game after college football games on and around Thanksgiving. Check out the full story here. 
What is the Detroit Lions record on Thanksgiving Day?
Since the tradition began in 1934, the Detroit Lions hold a 37-42-2 record on Thanksgiving Day, as of 2020. If you're a math whiz, you may have noticed that those numbers don't add up and six years are unaccounted for. The Detroit Lions did not play on Thanksgiving in 1939 or 1940. Also, from 1941 to 1944, no games were held on Thanksgiving due to World War II.
How have the Lions fared against the Packers and Bears on Thanksgiving?
The Detroit Lions have played a handful of teams a couple of different times since 1934, however, their most common foes on Thanksgiving are the Green Bay Packers and Chicago Bears. The Lions have gone up against Green Bay 21 times and Chicago 18 times.
Currently, in the Green Bay series, the Lions are 12-8-1 against the Packers. The one tie was in 1963. In the series against Chicago, the Lions are 8-10-0 against the Bears as of 2020. We will see what happens when Detroit squares off against Chicago for their next Thanksgiving matchup on Thursday, November 25th, 2021.
Aside from the Packers and the Bears, what other teams have the Detroit Lions played on Thanksgiving Day?
The Lions have taken on many teams on Thanksgiving Day and some of these teams don't even exist anymore. Check out the list of Thanksgiving opponents below:
Atlanta Falcons (2005 - Loss)
Baltimore Colts (1965 - Tie)
Boston Yanks (1946 - Loss)
Buffalo Bills (1976 and 1994 - Both wins)
Chicago Cardinals (1948 - Loss)
Cleveland Browns (1989 - Win)
Cleveland Rams (1945 - Loss)
Denver Broncos (1974 - Loss; 1978 - Win)
Houston Oilers (1922 - Loss)
Houston Texans (2012 and 2020 - Both Losses)
Now let's pause for a moment to relive the 2012 debacle...
Indianapolis Colts (2004 - Loss)
Kansas City Chiefs (1987 and 1996 - Losses; 1971 and 1981 - Wins)
Los Angeles Rams (1967 and 1975 - Both Losses)
Miami Dolphins (2006 - Loss)
Minnesota Vikings ('69, '88, and 2017 - Losses; '95 and 2016 - Wins)
New England Patriots (2002 and 2010 - Losses; 2000 - Win)
New York Giants (1982 - Loss)
New York Jets (1972 and 1985 - Both Wins)
New York Yanks (1950 - Win)
Oakland Raiders (1970 - Win)
Philadelphia Eagles (1968 - Loss; 2015 - Win)
Pittsburgh Steelers (1983 and 1998 - Both Wins)
San Francisco 49ers (1966 - Loss)
Tennessee Titans (2008 - Loss)
Washington Redskins (1973 - Loss)
Source: Wikipedia
Every Detroit Lions Quarterback Since 1960
There have been 40 Detroit Lions quarterbacks in the past 60 years, and not one of them has taken us to a Super Bowl.