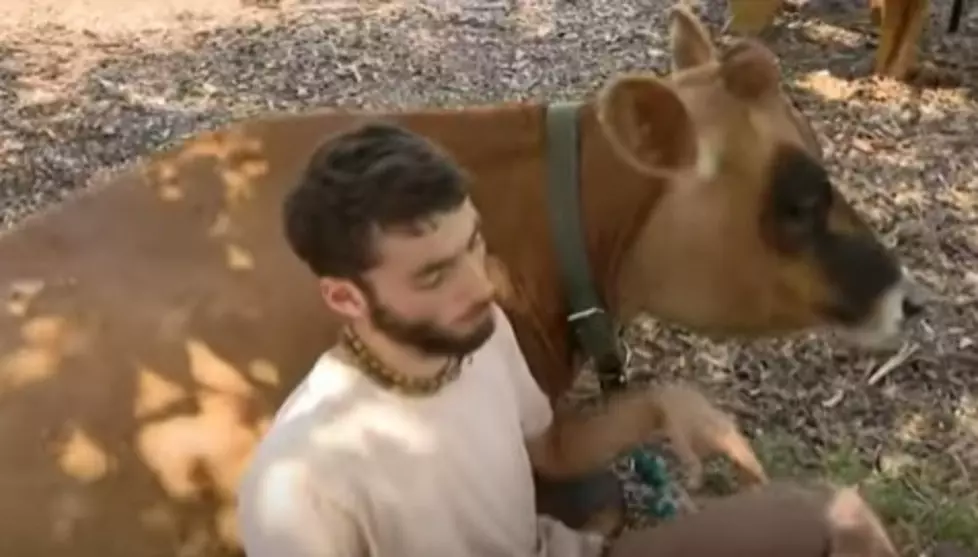 Need to Relax? Try Cow Cuddling at This Michigan Farm
Click On Detroit | Local 4 | WDIV via YouTube
It might seem unusual, but a Michigan farm offers a unique opportunity for relaxation. It's called cow cuddling and it's utterly awesome. Sorry, couldn't resist.
SEE ALSO:  This Cozy Upper Peninsula Cabin is Way, Way Off the Grid
Goloka Eco Farm is tucked away in Maybee, Michigan. Maybee is located near the Ohio state line, about 30 minutes southeast of Ann Arbor.
What is Cow Cuddling?
According to the farm's website, cow cuddling is a special form of therapy. The relaxation process includes brushing, hugging, cuddling, and sometimes even milking the cows. The rate is $40 per hour and is booked through Airbnb.
Radha Gopal is a 'cow protector' at the farm. In the video below, he tells Detroit's WDIV that spending time with cows is a great way for people to experience nature.
"This intention is to create a space for people who aren't necessarily exposed to the natural world," Gopal says. "People who grew up in the suburbs and cities can come here and appreciate the divine arrangement and order of the ecosystem."
Clients can cuddle with the cows as they chew their cuds, which provides for an ultra-relaxing experience that rivals goat yoga.
Patience is a Must
Gopal demonstrates that part of the therapeutic value of the experience is waiting for the cow to lie down and get into position.
"Sit down, lean into it, and give her some scratches as well," Gopal explains as he cuddles up to the bovine. "Scientifically the cow's body temperature is at a higher temperature than humans' and the heart rate is slower."
He goes on to say that physical contact with the cows is known to lower blood pressure and calm nerves.
More information is available here. 
This Cozy UP Cabin is Way, Way Off the Grid
Here's a way to put miles and miles between you and your neighbors. (But this cabin in the middle of 80 acres in the UP also puts miles and miles between you and civilization.
And since you asked, there is power. At least some of the time thanks to a solar system with battery backup.
11 Quirky and Random Facts We Didn't Know About Good Ole Michigan
The history of Michigan is filled with many unique things that set the state apart. Check out the list below to see what makes this state so amazing!
Motor City Comic Con GUESTS FROM MAY 2022
The first Motor City Comic Con of 2022 in May was awesome! We can't wait to see who will be there in October!