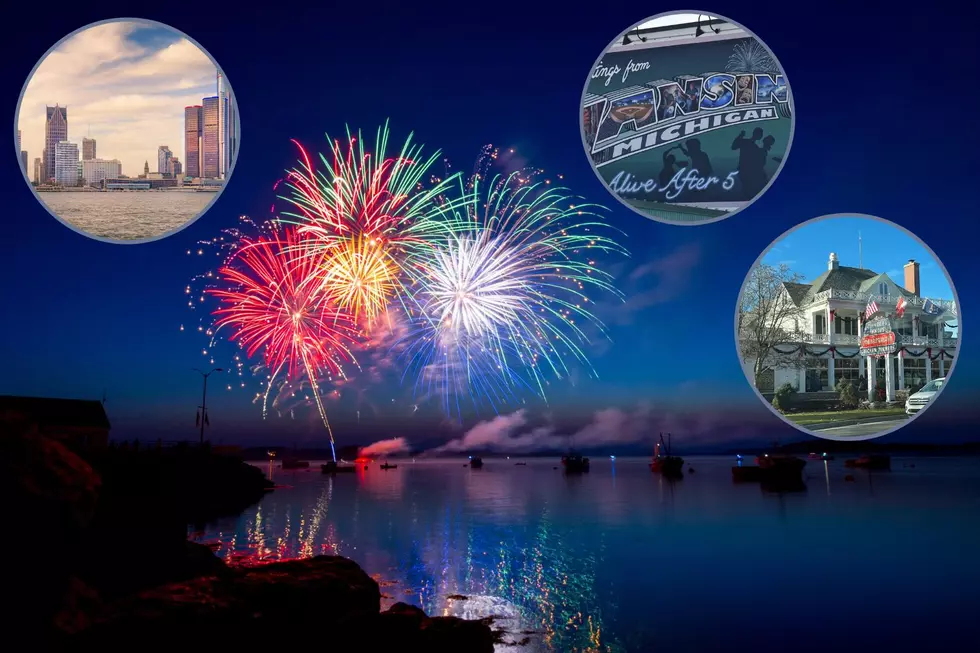 Find Out Where to Watch Stunning Fireworks Displays in Michigan
Photos by Ray Hennessy on Unsplash; SolomonCrowe; McConnell Adams; and Kristen Matthews/TSM Lansing
It's about that time of year when our skies are filled with bright lights and big, booming sounds to match.
It's time for fireworks displays.
And I'm not talking about the handful of fountain fireworks that your uncle blows off in his backyard...I'm talking about the big ones put on by cities and townships and the like that are really big, impactful, and put on a heck of a show.
July 4th Fireworks Displays
At this time, we're less than a month out from most 4th of July celebrations and fireworks displays.
This year, the mid-Michigan area has quite a few going on, so if you didn't want to drive very far, these would be perfect for you. However, if you were up for making a bit of a drive, there are even more fireworks displays taking place across the state of Michigan.
Michigan Fireworks Displays
Take a look through the list below to see when and where you can find fireworks displays in Michigan this year.
The City of Lansing is hosting their 4th of July Celebration Parade and Concert on Monday, July 4th. These are free events for the residents of Lansing. The parade will take place around the Capitol Loop at 11 am. The concert will take place at 8 pm, and the fireworks will follow immediately the concert at Adado Riverfront Park.
Meridian Township's Celebrate Meridian Festival is returning after a two-year hiatus. Mark your calendar for Saturday, June 25th. Celebrations will take place all day from 8 am to 11 pm, with the fireworks display occurring at the end of the day. Along with the fireworks that night, there will also be music, food, beer, and activities for the whole family.
Make the drive down to Detroit for the 2022 Ford Fireworks. This show will take place on Monday, June 27th. Grab a spot in Hart Plaza, the show will start at 9:56 pm.
The Traverse City National Cherry Festival will take place from July 2nd through the 9th this year. It will feature live music, food, drink, and fireworks. The fireworks will take place on Monday, July 4th at 10:30 pm in West Grand Traverse Bay. Click HERE to see a map of the best spots to take in the show.
The fireworks will take place on the second day of this 2-day Fourth of July celebration. The show will take place at "dark" at Howe Memorial Park. Check out other activities HERE.
Frankenmuth has delicious famous chicken and maybe the most Christmas decor than you've ever seen anywhere else. It also has a fireworks show to celebrate Independence Day that can be seen from across the city. It's taking place on Sunday, July 3rd from 9:30 - 10 pm.
The Lansing Lugnuts will play against the Great Lakes on Monday, July 4th. The game will be followed immediately by the LAFCU Fireworks. If you're anywhere in the Downtown Lansing area around 10 pm that night, you'll catch the show.
Celebrations will take place in Downtown Fowlerville on Monday, July 4th. The parade will start at 6 pm, and the fireworks will take place shortly after dark.
There will be events all day long leading up to the evening fireworks show. There's Downtown shopping and dining, a parade at 6 pm, an ice cream social from 7 to 9 pm, live music, and an opportunity to take in a "Million Dollar Sunset" (take a look over the Bay at 9:32 pm for the sunset). The fireworks show will take place at about 10:20 pm, or at dusk. The best viewing area is in Petoskey's Bayfront Park.
The show will take place at Ah-Nab-Awen Park on Saturday, July 2nd at 10:30 pm.
Michigan's Best Places To Spend the 4th of July
12 Places in Michigan to Take a Hot Air Balloon Ride
Here's a list of places in Michigan that offer hot air balloon rides.