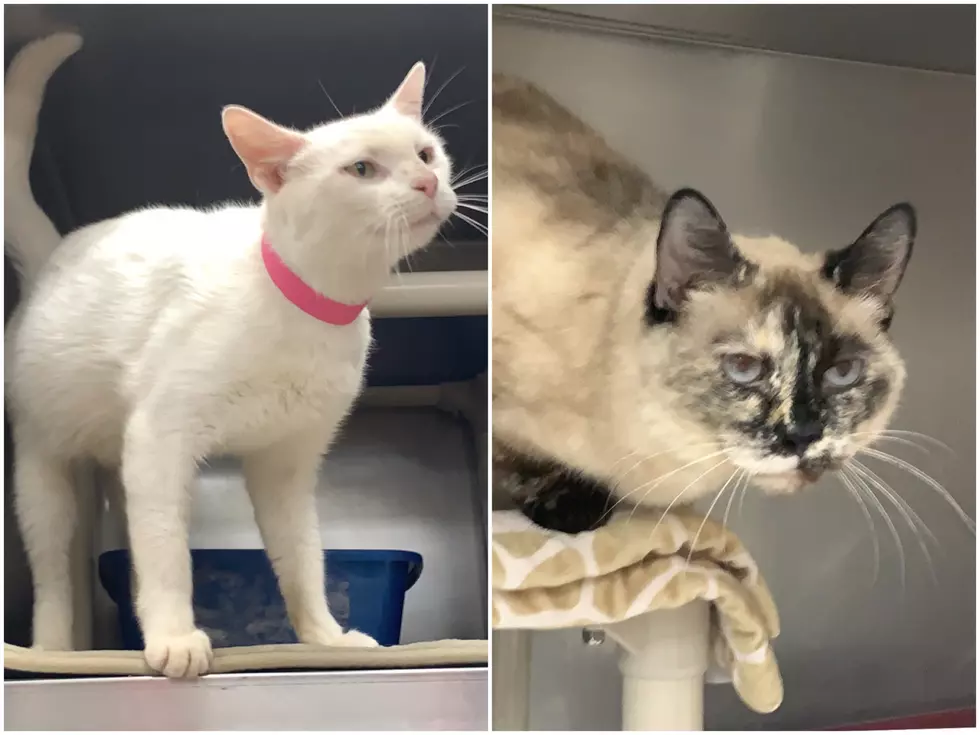 Meet Crystal & Coco! AJ's Animals for October 20th, 2020 [VIDEO]
via Pat and AJ
AJ's Animals is proudly brought to you by The Brough Bakery in Clio!
It's kitty season, everybody. People are keeping an eye out for strays and bringing them into the Humane Society of Genesee County to get them out of the chilly fall weather, and that means that a LOT of cats are looking for their furrrever homes.
With that in mind, let me introduce you to Crystal and Coco.
Crystal is a 7-year-old domestic shorthair mix. According to Lin at the HSGC, white cats are actually pretty rare as strays. She'll be spayed before she's adopted and, as you can see, she's well-behaved and loves to snuggle and be petted.
Coco is an 11-year-old Siamese mix who would be GREAT in a home with a senior who's looking for some laid-back cuddle time. She needs to be the only pet in the home. Her colors are absolutely BEAUTIFUL and her paws (or as I call them, her 'peets') are stumpy and adorable.
As you can see, neither cat tried to escape their kennel. They're both gorgeous, snuggly and very well-behaved.
If you have other pets, you must setup a meet-and-greet with your animal(s) and your prospective adoption animal. The HSGC is still doing appointments only, and masks are required. Take a look at their website and give them a call; let them know which animal(s) you're interested in.
You can reach them at 810-744-0511.
Enter your number to get our free mobile app
Check out these 50 fascinating facts about dogs: