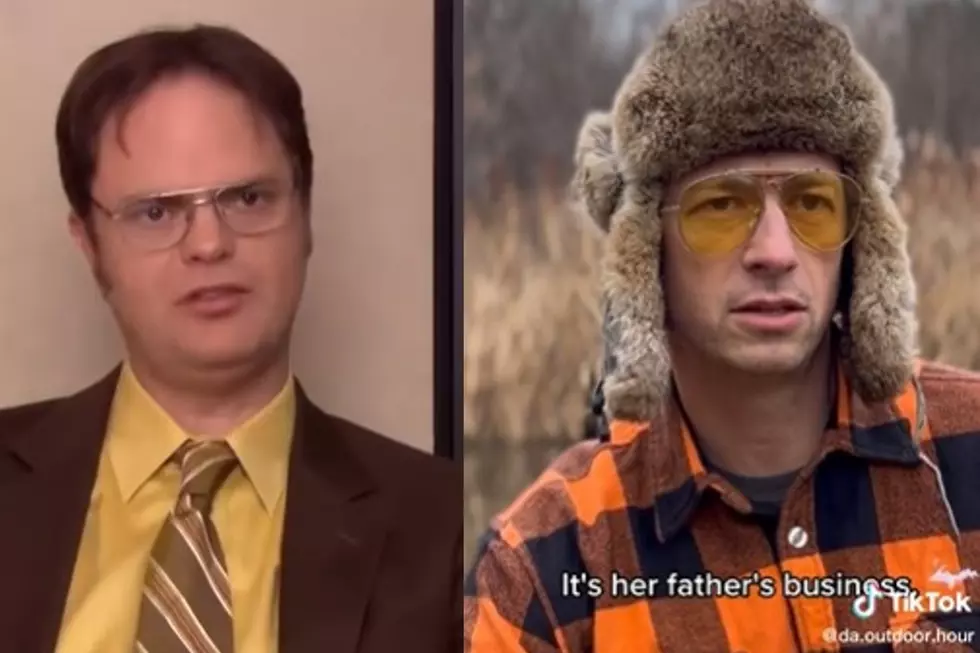 If Dwight Schrute Was a Yooper: UP Fella Describes da Perfect Crime
The Office via YouTube/da Outdoor Hour via TikTok
Imagine if Dwight Schrute had been born in the Upper Peninsula of Michigan rather than in Honesdale, PA. The dynamics of 'The Office' certainly would have been a lot different.
Better, perhaps? Let's take a moment to imagine.
SEE ALSO:  This Howell Home is Nice - But the Dwight Schrute Bathroom Makes it Truly Awesome
A Fella From da UP Channels Dwight Schrute
You're about to meet a Yooper who personifies our favorite beet farmer perfectly. And by the way, beets are out, fish and wild game are in. Da Outdoor Hour gets credit for the viral TikTok video that adapts the Assistant (to the) Regional Manager's 'perfect crime' fantasy to one that any pasty-eating Michigander would love to sink their teeth into.
What's This Yooper's Perfect Crime?
We're all familiar with Dwight Schrute's 'Perfect Crime,' breaking into Tiffany's at midnight and hooking up with Tiffany, the daughter of the owner. (We've included the original video below if you need a refresher.)
But let's imagine the possibilities if Dwight had been born in Michigan's beautiful Upper Peninsula. And let's make it the Western UP, we'll say Escanaba.
Our Yooper friend outlines his 'perfect crime,' breaking into a Bass Pro Shops store and meeting up with the owner's daughter, Penny Morris, the heiress to the Bass Pro empire. Instead of making love all night, they spend the whole night packing pasties on the fishing reel counter. Now THAT'S a Yooper super fantasy!
True to the original, the parody video details a wild Schrute scenario including deception, a child born out of wedlock, and instead of a priceless chandelier, a cooler full of large-mouth bass.
Dwight's 30-Year-Old Child
And that baby born out of wedlock? Instead of a son, our Yooper friend has a (30) 'tirty' year-old daughter named Betty who - wait for it - is the head of the DNR.
The Upper Peninsula version of our favorite Office character just may be the greatest TV character of all time.
Before you watch the videos below, think to yourself, "Would an idiot do that?"
This House Has a Commode That's an Ode to Dwight Schrute
This lovely home in Howell, Michigan is beautiful. It's tastefully decorated in a lovely color scheme, there's extensive hardwood flooring, a newly remodeled kitchen, and - wait for it - a bathroom that pays homage to Dwight Schrute.
You're going to like what you see. That's what she said.
Flint + Saginaw's Most-Popular TV Anchors - Where Are They Now?
A lot of highly talented people have sat behind the anchor desks at the area's TV stations.
We're taking a look at some of the area's most popular news, weather, and sports anchors who have visited our homes electronically and then moved on.
SEE: 30 Toys That Defined the '70s