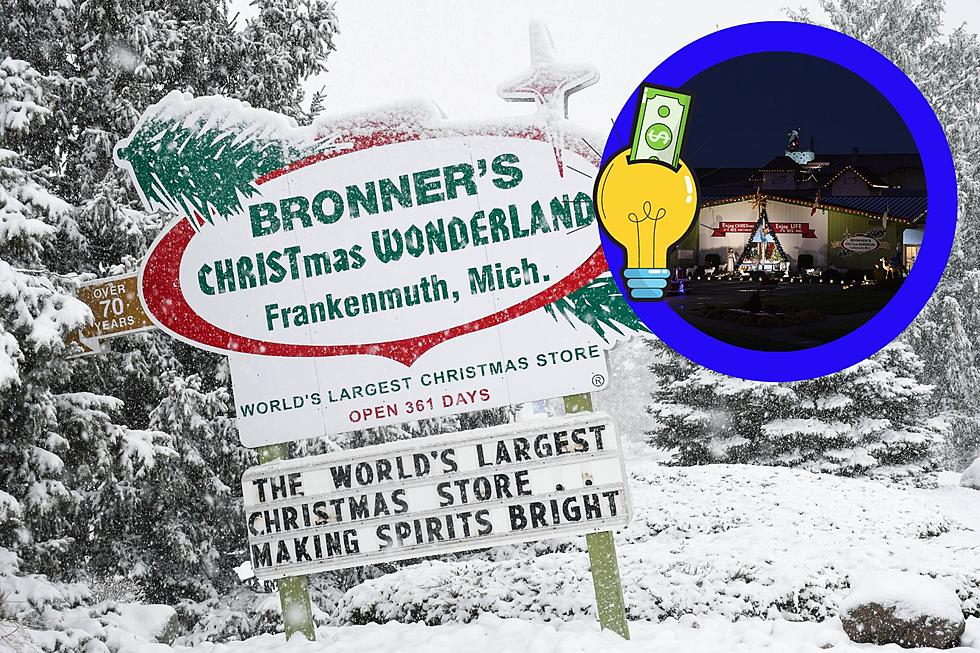 How Much Does It Cost To Run Bronner's Adorable Lights in Frankenmuth, Michigan?
Credit: Bronner's Christmas Wonderland, Canva
Our very own Bronner's Christmas Wonderland, right here in Mid-Michigan, is known throughout the country for being the biggest Christmas store, anywhere.
Snowbirds have even reported billboards spotted as far south as Florida along I-75.
See Also: How many lights do they put up at Crossroads Village, near Flint, for the holidays?
Bronner's is so much more than just lights, of course. They sell all things for the holidays.
But we have questions about the lights...and light bill.
How many lights are outside of Bronner's?
Every night from dusk to dawn, around 100,000 lights shine on the outside of the Bronner's property.
That's a LOT of lights considering their drive is only about 1/2 mile long.
How many nativities does Bronner's have mixed in with their lights?
They sell over 250 types of nativities.
If you want to simply view nativities... they have 570 from 65 nations on display in their program center.
Fun Fact: Each decorated tree features one nativity ornament.
So, how much is Bronner's Electric Bill?
Let's consider all of the lights inside in addition to all of those outside:
All the lights for your trees at home (indoors or outdoors).
Municipal or commercial (giant outdoor sets) stuff that hangs on street poles and buildings.
Hundreds of decorated trees
Window decorations
Lighted figures
and heating & cooling the building.
Bronner's average electric bill is...
$1,250 per day.
That's around $37,500 per month.
Approximately $450,000 per year.
When is the best time to go to Bronner's?
Bronner's Christmas Wonderland only closes four days each year. That means almost anytime is the right time to visit.
Over 50,000 people visit during the weekend following Thanksgiving alone -- that's their busiest.
Every year over 2,000,000 people stop in.
Over 700 people are employed by Bronner's.
Who owns and operates Bronner's now?
Following the passing of Wally Bronner in 2008, his wife Irene Bronner managed the operation with six other relatives.
Then, after Irene Bronner's passing October 16th, 2022, those other six relatives have continued to run the family business.
Don't worry, Bronner's has plenty of parking with over 1,000 spaces.
Bring your walking shoes, too. It's a big, beautiful place to explore.
See Crossroads Village and Huckleberry Junction Holiday Lights
You can't help but smile when you see Crossroads Village & Huckleberry Railroad lit up for the holidays. With around 1,000,000 Christmas lights viewed by thousands of visitors each season... This is Genesee County's favorite holiday tradition.
Gallery Credit: Nate Reed
What Does Premium Outlets in Birch Run, Michigan Look Like Today?
Michigan's most legendary outlet mall opened in 1986, located just off I-75 approximately halfway between Flint and Saginaw. The mall was originally named Manufacturer's Marketplace/Prime Outlets at Birch Run.
Gallery Credit: Nate Reed
Michigan Restaurants Where You'll Get the Best Steak
From Small Towns to Big Cities in the U.P. and Lower Peninsula these are Michigan's best places to get a flavorful steak.
Gallery Credit: Nate Reed