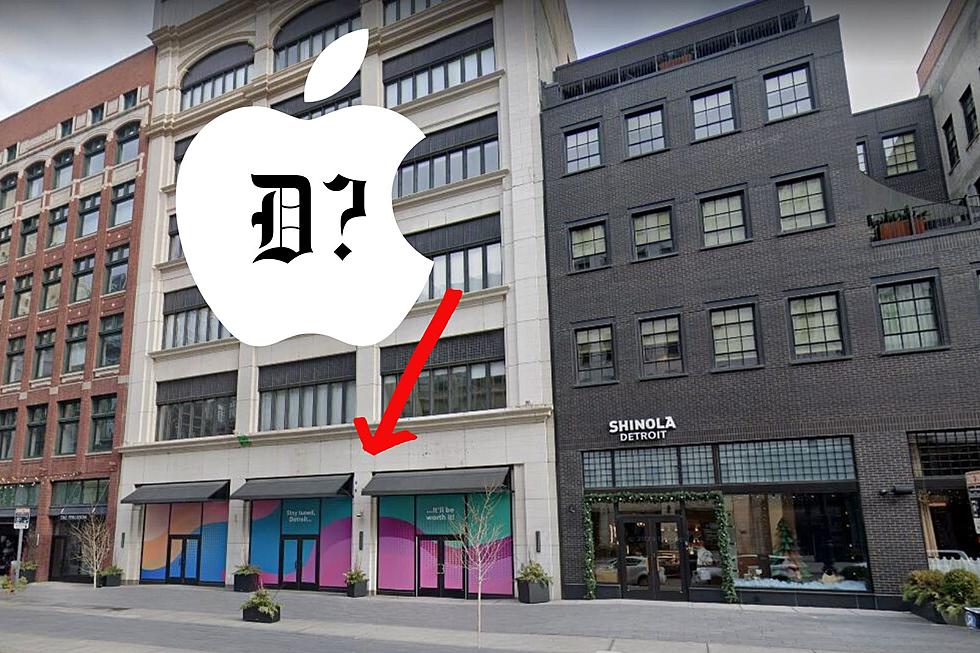 Android Lovers Won't Care, but Detroit Could Get an Apple Store Soon
Credit: Getty, Google Street View, Canva
Detroit has been rumored to be getting an Apple store for a long time. It's not like locations don't already exist in Metro Detroit malls, but a stand-alone store in Downtown Detroit (the first in Wayne County, too) would signal another level of economic resurgence... so to speak.
Where would an Apple store be located in Detroit?
Dan Gilbert's company Bedrock is rumored to want Apple next to Shinola on Woodward. According to Crain's Detroit Business, Gilbert has been after Apple for a long time. That location next to Shinola would seem to be the perfect size for a stand-alone spot.
Love or hate Apple products, prices, tech, etc... you have to admit it's one of those places "if you build it, they will come." That can only mean good things for other businesses in that area.
Rihanna's Lingerie Brand might be Apple's other neighbor in Detroit
We previously reported, singing, fashion and philanthropic icon Rihanna is planning to open a high-end store not far from this proposed Apple site. Savage X Fenty is her lingerie store -- currently with locations in Arlington, VA, Houston, Milwaukee, Las Vegas, Culver City, CA and King of Prussia, PA. Rihanna's Detroit location would be on the opposite side of the rumored Apple space.
MI Fudge Shops Worthy of a Road Trip
Current Apple Retail Stores in Michigan
All of Apple's Michigan storefronts are currently located in malls:
Ann Arbor at Briarwood
Clinton Township at Partridge Creek
Grand Rapids at Woodland
Lansing at Eastwood Towne Center
Novi at Twelve Oaks
Troy at Somerset Collection
It's great to see so much retail interest in Detroit. Also, a reminder for residents of the city to stay involved, run for office, keep progress moving at the right pace so insane gentrification doesn't drive local shops away from the center of the action.
10 Pics of Aretha Franklin's Childhood Home in Detroit
The Detroit house that Aretha Franklin called home while she was growing up has hit the market for $379,900.
Reminiscing about growing up in the house, Franklin noted, "It was the most beautiful home I had ever seen."
Abandoned Detroit Zoo
Remember the Belle Isle Zoo? Sadly the property has been neglected - and all but forgotten - since its closing in 2002.
WARNING: Under no circumstances should you enter this property. By doing so you risk bodily harm and/or prosecution for trespassing on private property.
$2.7M Beautiful Detroit Firehouse Could Be Your New Home
$2.7M Beautiful Detroit Firehouse Could Be Your New Home At 10,000sq feet, 3 floors plus basement in Corktown Detroit, MI