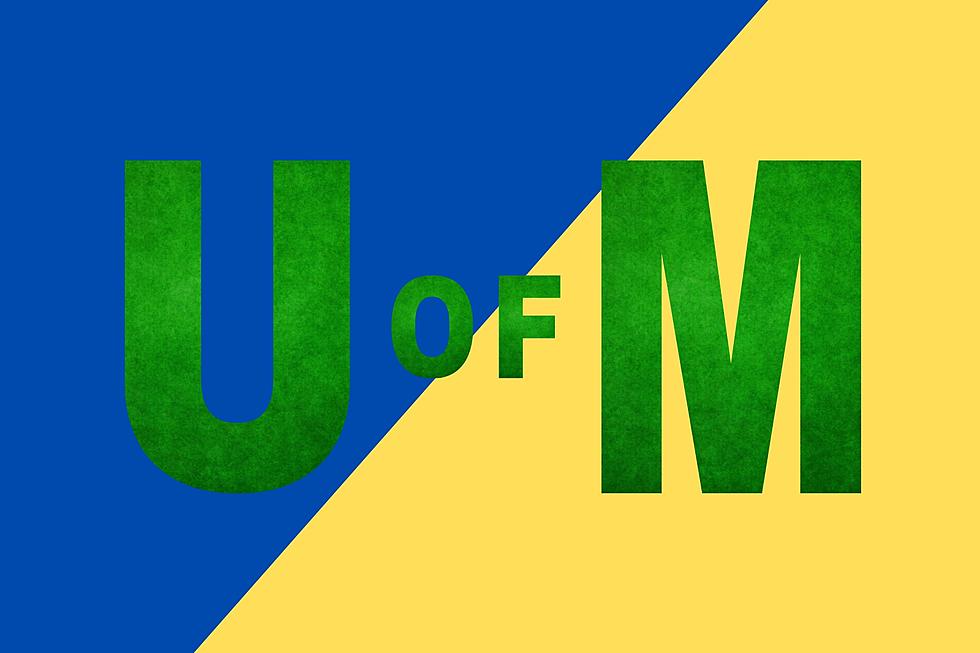 5 Things That Could Make a U of M Fan Say Go Green [OPINION]
Credit: Canva
No matter where you live in the United States, the odds are you have a favorite college. And, if you are a sports fan, then you definitely have a favorite college whose teams you root for all year long.
Which College Do You Choose If You Have Multiple Choices
If you live in Michigan, you have a choice between two Big 10 colleges. Michigan State University and University of Michigan. Ask any Michigander what their favorite college is, and the odds are you will get one of these two answers. And whatever the answer is, they mean it! PERIOD!
Wherever you go in the state you will hear one of two things. It will either be "GO BLUE" or "GO GREEN." And in almost all cases, people will always stick to their side. Or will they?
I am not a big sports fan but as a person born into a Michigan State-loving family, I have said "GO GREEN" countless times in my life. Which got me thinking ... is there any reason a University of Michigan fan would also say "GO GREEN"?
Here are the top 5 reasons a U of M fan might say "GO GREEN" and actually mean it.
Things That Might Make a U of M Fan Say Go Green
1) Let's start off with a health reason. Maybe some time spent in Ann Arbor, a U of M fan decides to go on a major health kick. And, after realizing all of the incredible benefits of Kale, decides to promote the findings to friends and family. It would be hard not to say "Go Green" when pushing Kale on folks.
2) Maybe you have children who consider Kermit the frog to be some type of superhero. You are playing with your child, who has their favorite stuffed Kermit the Frog in hand. Suddenly, it appears that the other stuffed animals in the room are in trouble. Kermit's superhero abilities are obviously needed. So, what else could you say other than "Go Green," Kermit to the rescue!
3) Put yourself in this situation. You hear that one of the best chances to see the northern lights (which you have never seen in person before) will be on a specific date. To prepare, you take the day to place chairs, a table, a cooler, and your video camera out in the lawn only to see clouds rolling in.  You check the forecast that says there is a chance the clouds could clear out in time to still get a glimpse the northern lights. Just when you think you've missed your opportunity, the clouds start to separate. And there they are: the Northern Lights! You are so excited that, without even thinking about it, you exclaim "GO GREEN!" (It could happen).
4) Let's say a U of M fan decides to make a change in employment. Having always been interested in environmentalism and the wellbeing of our planet, this person gets lucky and lands a job as a spokesperson for 'conserving energy and reducing pollution.' Guess what? Whether you like it or not, your job just became saying "Go Green."
5) This one (in my opinion) is just a given, but if you were to purchase a Lotto ticket on your way home from work, and you set it in a safe place in your vehicle so you won't forget to check it the following day. Then, upon doing that the following morning, you realize that you hit every number, including the PowerBall. You may never say anything but "GO GREEN" for the rest of your life.
So, if you're a University of Michigan fan, are any of the five reasons listed above enough to make you say "Go Green?"
Take a Peak at U of M Coach Jim Harbaugh's Multi-Million Dollar Estate
University of Michigan's Head Football Coach Jim Harbaugh million dollar estate in California is quite the place. The estate has an 8,500-square-foot home and a guest house with five bedrooms. There are a total of eight bathrooms between them. The estate covers 1.3 acres in Atherton which is considered one of the most affluent locations in the area near Stanford University. The home just sold for $11.78M. Take a look inside.
Take A Look Into The Home Of MSU Head Football Coach Mel Tucker