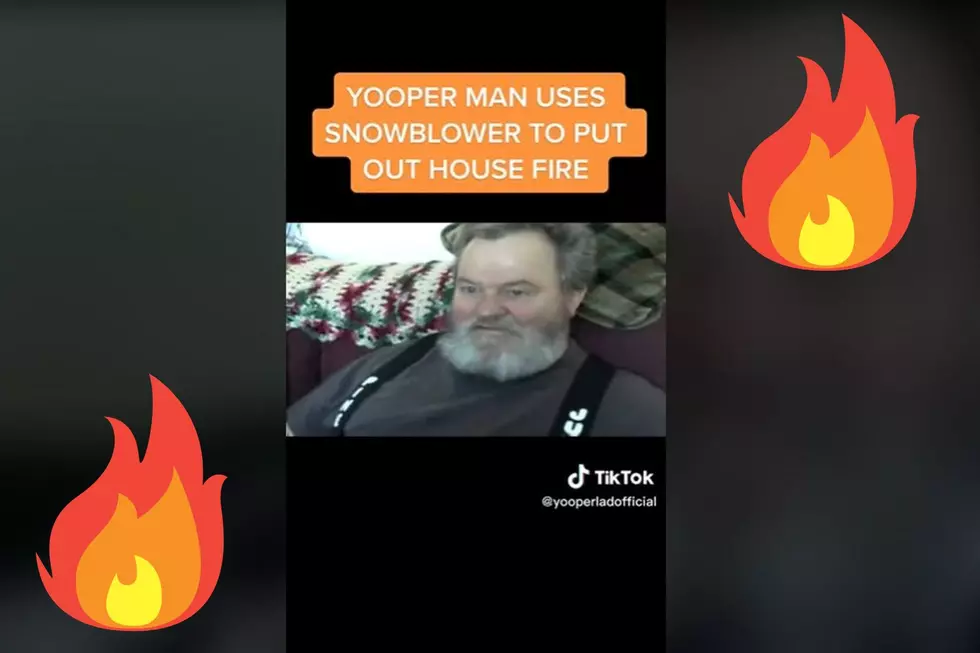 Remember When This U.P. Man Used a Snow Blower to Battle a House Fire?
Yooper Lad, Canva
Back in 2011, a man from Diorite, Michigan (30 minutes west of Marquette) did something only a true Yooper would think to do and that's put out a house fire with a snow blower.
One cold winter day in Michigan's Upper Peninsula, Yooper Legend, Steve Liubakka noticed flames shooting out of his neighbor's window. He immediately jumped into action by grabbing a 30-pound fire extinguisher.
After unloading the fire extinguisher with little results, Liubakka knew he needed to step up his game and that's when his Yooper instincts kicked in. He grabbed his 32-inch cut 13-HP Ariens snow blower and blasted 16 inches of snow into the front window of the house where the fire had initially started.
Steve Liubakka:
I knew she was hot when I first went up dare with da dry chemical fire extinguisher, so two things you gotta do, eh? You gotta get the temperature down and get the oxygen out of dare, so.
The fire chief told Liubakka that if it wasn't for the snow blower, his neighbor wouldn't have a house. Liubakka said, "The snow blower isn't a $550,000 fire truck, but it did the job."
This is just another classic Yooper story that needed to be shared again. If nothing else, you got to hear that awesome Yooper accent again.
SEE ALSO: Viral Keweenaw County News Clip Perfectly Sums Up Michigan's U.P.
The only way to truly appreciate the story is by watching the TikTok video below.
LOOK: Here's where people in every state are moving to most
Don't Call Yourself A Yooper Unless You've Been To These Michigan Upper Peninsula Places
It can almost be looked at as a different state entirely, while encompassing everything beautiful about Michigan. There are some spots that are truly breathtaking, and if you've never planned a trip to the upper peninsula, make sure you're comfortable with long drives.
Yoopers
16 Famous or Notable People Born in Michigan's Upper Peninsula
Michigan has unleashed a lot of talent into the world. Check out these 16 famous and/or notable people that were born in Michigan's Upper Peninsula.