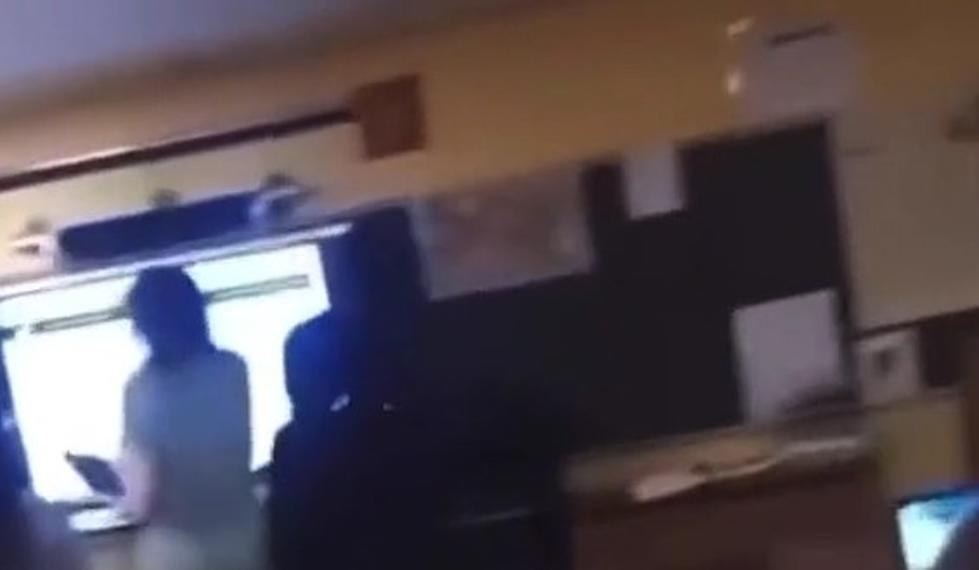 Flint Video Goes Viral After Student Hits Teacher With Chair
GFS News via YouTube
Flint, Michigan has garnered national attention again after a Southwestern Classical Academy student was accused of hitting a teacher with a chair.
The incident occurred on Thursday, September 28th, and was captured on video. The footage has gone viral since being covered nationally by countless media outlets including TMZ, The Daily Mail, and the New York Post.
As you will see in the video below, there was an altercation between two students. From all accounts, the teacher involved was attempting to control the situation when she was struck. I warn you, the video is hard to watch and is NSFW.
Both students involved in the altercation were arrested. According to ABC 12, the unidentified 15-year-old female student accused of throwing the chair is now facing two felonious assault charges.
According to the New York Post, the unnamed teacher was taken to a hospital and has since been released. She is said to be doing well, all things considered, at this time.
Flint Community Schools Superintendent Kevelin Jones addressed the situation in the following letter,
Our thoughts are definitely with the teacher involved in this horrible altercation. As stated in the letter, she is indeed a hero and we certainly wish her the best at this most difficult time.
This article will be updated with any new information as we continue to follow this case.
15 Classic WTF Posts From Flint Police Operations Facebook Page
Back in the day, before Genesee County authorities scramble their communications, the Flint Police Operations page was a blast to follow for weird things like this.
Gallery Credit: Facebook
See What the Dort Mall in Flint Looks Now. Empty
The Dort Mall in Flint is looking pretty empty and almost abandoned nowadays. Check out how it looks and what is still inside here. (Photos from 2022)
It's a Sad Day. Capitol Coney Island in Flint Has Been Demolished
Another blow to the heritage and fun life of Flint!