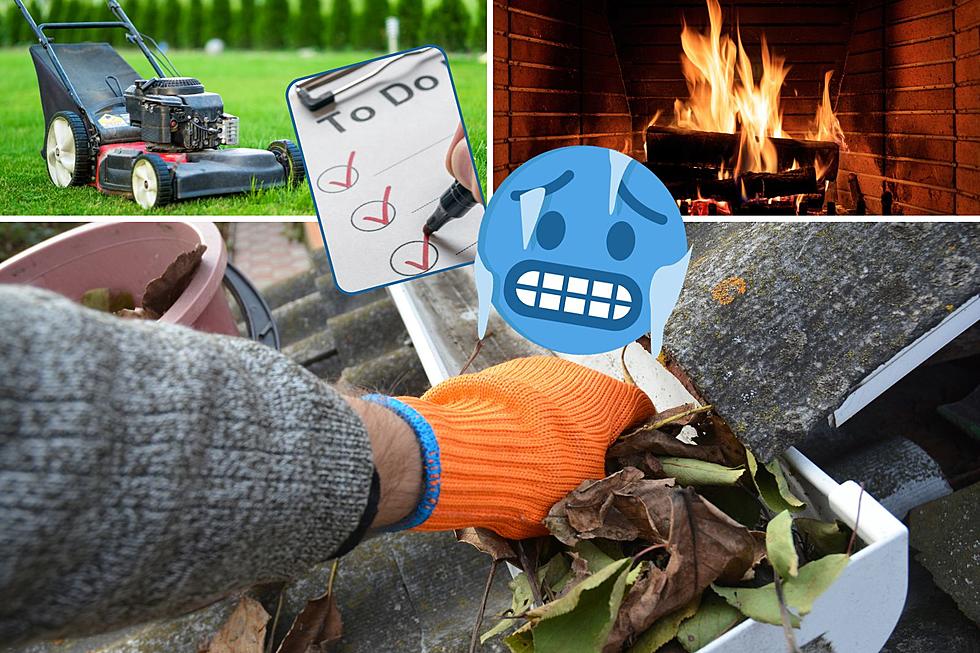 7 Things to Do For Your Home Before Winter in Michigan
Canva Pro
We may not be done with fall yet, but that doesn't mean that Michiganders shouldn't start thinking about winter. In fact, it's the perfect time to start thinking about winter home maintenance.
Winter Home Maintenance
Before we embark into the coldest and most frigid months of the year, it's important to do a once over of your home and address any issues. No, it's probably not going to be fun, but doing it will help make sure that your home is in the best shape possible to stand up against the elements.
But, what if this is your first time doing winter home maintenance? Maybe you're new to Michigan and haven't been through one of our snowy and icy winters?
How to Get Your Home Ready for Winter in Michigan
Whatever the case, I've got you covered. Mostly because I'm putting together my own check list. And here's what I've got... 7 winter home maintenance tips perfect for a Michigander.
7. Drain Gas From Your Lawn Mower and Other Power Tools
Gas left in your lawn mower and other tools can gum up the carburetor, which in turn can cause things to rust and decrease the life of your power tools. Plus, once it consistently stays below 50 degrees, you might want to stop mowing your lawn anyway.
6. Check Your Sump Pump
Make sure it's working properly and nothing is blocking the drain.
5. Clean Your Carpets
Dirt has been tracked in all summer and fall, and you don't want to make it worse this winter by topping it off with snow, ice, and salt. And since you'll likely be spending more time in your home during the winter, do your allergens a favor and have the carpets cleaned.
4. Ready Your Fireplace
Make sure the flue is in proper working order and inspect the inside and outside for damage. Check up for a build up of creosote, as too much accumulation in a flue or chimney can result in a fire. Also double check for any pests that may have gotten in your fireplace.
3. Check Your Furnace
Change the filter, so it doesn't have to work so hard this winter. Also see when the last time it was inspected was.
2. Clean Your Gutters
Clogged gutters can lead to all kinds of damage to the exterior of your home, or even worse, the foundation. Best keep those gutters clear.
1. Have an extra 6-pack of your favorite beer or beverage in general in the back of the "beer fridge"
Don't run out of your favorite beverage during a Michigan snow storm. No one should be making that beer run. Just stay inside.
Things in Your House You Didn't Know Needed to be Cleaned
It's easy to spot when your floors need to be vacuumed or mopped. It's a lot harder to tell when something like your hairbrush needs to be cleaned.
Gallery Credit: Kristen Matthews
Does Your Dog Live Outside? Here's What You Need to Keep Them Warm During the Winter
Dogs, just like people, are susceptible to frostbite and hypothermia. That's why it's so important to keep them safe and warm during the frigid winter weather. If your dog lives outside during the winter months, here are ways you can keep them warm all winter long.
Gallery Credit: Kristen Matthews
15 Reasons Why Spring Is Genuinely Michigan's Worst Season
What's great about Michigan is that it actually gets to experience all four seasons in the year. But just because we have all four seasons doesn't mean that we have to like them all. Case and point; Spring is the absolute worst season in Michigan. Don't get me wrong, there are definitely some redeeming factors like the fact that plant life starts to bloom again and that we finally start to see warmer weather after a frigid winter. But that doesn't change the fact that spring is the worst season in Michigan, and we have the receipts to prove it. Take a look at the list below for 15 reasons why spring is just the worst.
Gallery Credit: Kristen Matthews