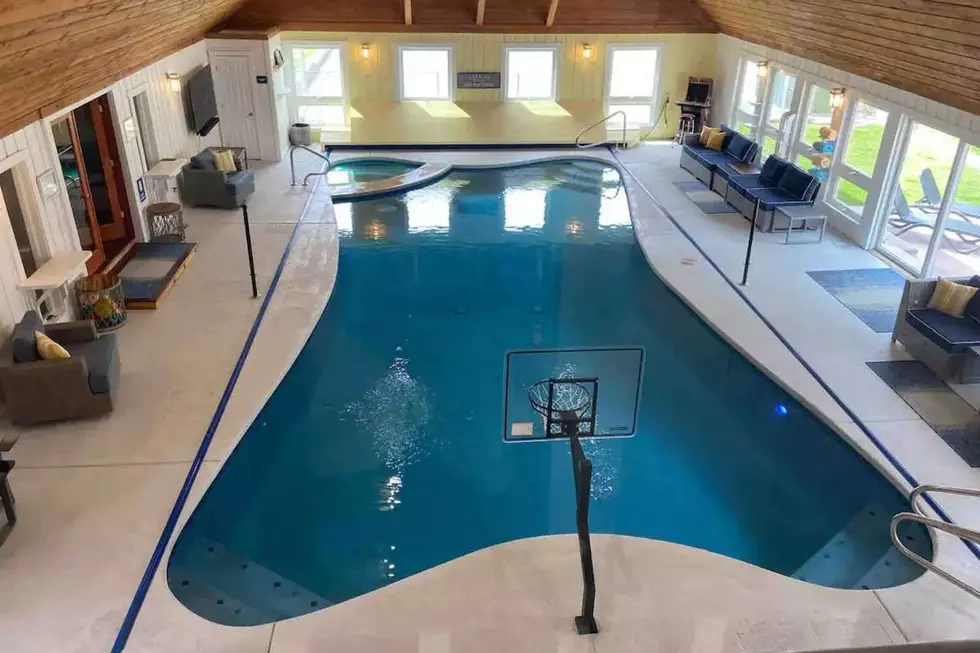 This Incredible West MI Airbnb Will Set You Back $8,717 per Night
Airbnb
This Airbnb near Grand Haven, MI is amazing but comes with a hefty price.
Unless you are extremely well off, you're going to need a few friends to vacation with to afford this Airbnb. Located in Spring Lake, Michigan, this massive home can accommodate 16 guests with its 6,594 square feet of space, 16 beds, and 7 and a half bathrooms. Just keep in mind that each night will cost you $8,717.
Is this Airbnb rental worth $8,717 per night? Well, we will let you decide. One of the best features that this home boasts is the huge indoor pool. You and your family and friends can play volleyball, water basketball, or just chill on the swim-up bar-style stools. The pool house also has a sauna for you to relax in as well.
When you want to venture outside the home, you will have plenty to do also. This home has a full tennis court, a pavilion, a gazebo, a small pond, and a firepit. You can kick back and relax on the huge patio with fire tables and just enjoy spending time with family and friends. This destination also offers an outdoor ping-pong table, cornhole, golf practice tee and putting area, and a lot of outdoor space.
If you want to head into town to explore, you are only five minutes from shopping and restaurants. You can also hit the beach at PJ Hoffmaster State Park and other beaches on the coast of Lake Michigan.
Would you pony up the cash for a great vacation at this place? I would. Check out the pictures below and let us know.
Source: Airbnb
This Incredible West MI Airbnb Will Set You Back $8,717 per Night
This Airbnb in Spring Lake, Michigan has an indoor pool and sauna along with a full outdoor tennis court, gazebo, firepit, and more. Just $8,717 per night.
Huge Traverse City Airbnb Has 40' Dock, Beach, Kayaks, and More
This Traverse City Airbnb is the perfect place or a vacation with friends and includes a huge boat dock, ping-pong table, pool table, hot tub, kayaks, and more.
Remote Michigan Airbnb Will Truly Take You Away From It All
If you really want to get off the grid, this Bangor, Michigan Airbnb is the place to do it. This spot is so private you can take a bath in the outdoor tub.
This Southwest MI Airbnb Comes With the Coolest Indoor Pool House
This Airbnb in Bridgman, Michigan comes with an indoor pool and hot tub, a huge private yard, and isn't far from the casino, breweries, and more.