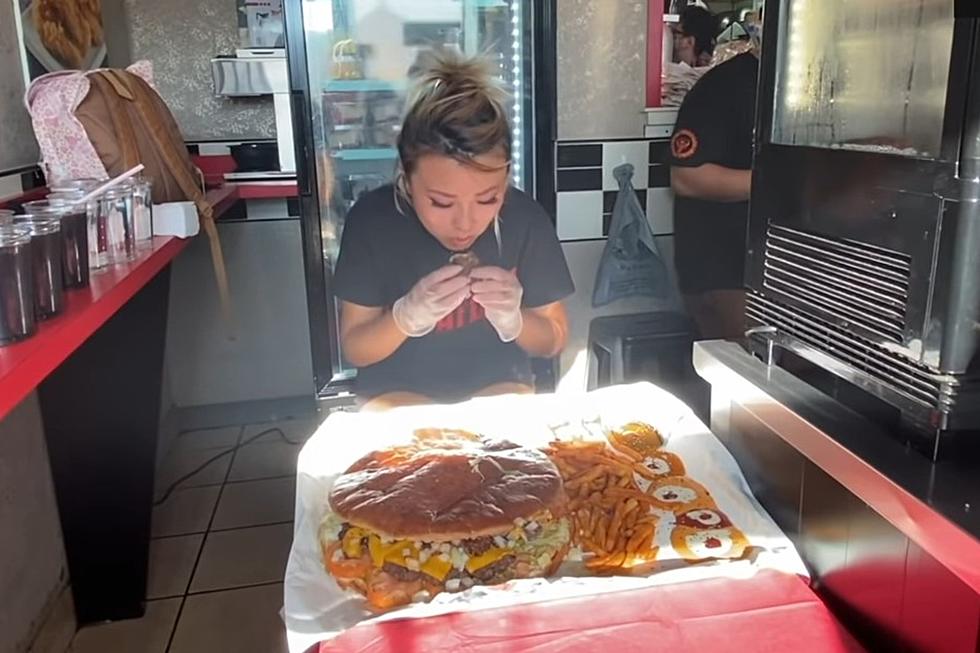 Competitive Eater Slams Massive 10 lb. Burger in Dearborn Heights [VIDEO]
Raina Huang via YouTube
I love a good burger. Throw some cheese on it, along with some condiments (put the tomatoes straight into the trash) and I'm in heaven. But how about a 10-pound burger? Are you up for the challenge? I'm gonna take a pass on this one.
But competitive eater Raina Huang -- who I'm guessing is about half my size and weight -- can't say no to a food challenge. How does she do it without becoming a candidate to appear on My 600-lb Life? We probably don't want to know.
The Challenge
Raina visited Michigan this week, setting her sights on Aljoom's BBQ/Burger Shack on Telegraph in Dearborn Heights to take on a massive 10-pound burger. In the video below, Raina takes us into the kitchen where the monster burger is prepared. This beast consists of a five-pound beef patty topped with some barbeque, cheese, lettuce, tomatoes, and spicy mayo.
The 10-pound burger is served with a side of French fries. Although it looks like the fries are dwarfed by the burger if you take a second look you'll probably notice that it's a pretty healthy serving of fries. (Tony's, anyone?)
Let's Get to Eat
(Spoiler alert ahead) You'll probably want to skip ahead a bit in the video below. At about the 9:00 minute mark, Raina declares victory (apparently you don't have to eat all the fries), conquering the massive burger in just over 39 minutes.
I guess we should say, job well done?
Want More?
Aljoom's BBQ/Burger Shack is located at 8606 N. Telegraph Rd. in Dearborn Heights. Their Facebook page boasts of a spicy chicken sandwich that apparently requires customers to sign a waiver. I'll take that challenge any day of the week.
Raina takes on food challenges all over the country and shares videos on her YouTube channel and webpage.
Peek Inside Don & Patsy Lou Williamson's Beautiful Davison Home
This breathtaking home in Davison belonged to former Flint Mayor Don Williamson and his wife Patsy Lou Williamson who owned several car dealerships in the area. Their custom-designed home was built in 2010 and sits on 19 acres on the Potter Lake Peninsula. The main home is about 3,800 square feet and there's a stunning guest house on the property as well.
Top 10 Highest-Paying Jobs In MI
A look at the highest-paying jobs in Michigan for 2021 according to data obtained by career resource website,
Zippia
.