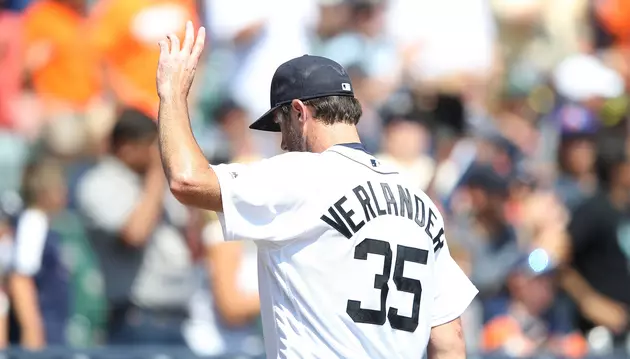 A Heartfelt Thank You To Justin Verlander From Tigers Fans Everywhere
Getty Images
Justin Verlander has officially been traded to Houston, ending his hall of fame career with the Tigers.
Tigers fans everywhere woke up to the news that JV would no longer be the ace for the Tigers. While there are some people that were hoping Detroit would move Verlander, most of the true Tigers fans are feeling like they've lost a family member.
Before I get all emotional about JV leaving the Tigers, let's look at just how good he was for Detroit.
Rookie of the Year in 2006 after leading Detroit to their first World Series since 1984
AL Cy-Young Winner in 2011, and he should have won it in 2016!
AL MVP in 2011
Six time All-Star (07, 09-13)
Won the pitching Triple Crown in 2011 (Lead AL in Strikeouts, Wins, and ERA)
Pitched two no hitters
Most wins in baseball in 2009 and 2011
The bullet points highlighting Verlander's career  could go on and on, but they wouldn't touch on exactly what made him great.
JV WAS THE TIGERS, HE WAS DETROIT!
Everything that made this Tigers team so great started with what JV brought to the park every single day. The fact that a team of superstars always found a way to have so much fun.
Verlander also did his part off the field too.  He was a regular nominee for the Roberto Clemente Award.  He also was the face of the Wounded Warriors project in Detroit. He regularly held special events for wounded veterans in Detroit, as well as speaking out for the group.
He battled through a mid career injury that had most people writing him off. Only to come back and pitch his way into the 2016 Cy-Young award (even though he got robbed).
The thing that makes this JV trade the hardest to stomach though is the fact that he is the face of the Tigers for a generation of fans.  I still think of growing up and watching Chet Lemon, Sweet Lou, Alan Trammell, and Jack Morris play.  I think about how I would pretend to be them in my back yard during the summer.
There have been some great players to come through Detroit since, but JV, Miggy, and their team is the first time that I've had that same feeling. I think about all of the young JV fans that have been pretending to be him on the mound, and wonder, "What will happen to their Tiger jerseys?"
I know baseball is a business, and a player playing in the same uniform for their entire career is rare. That doesn't mean that those of us who love baseball on a deeper level will ever change. When I watch a player give everything they possibly have to a team, city, and fanbase . . . I always hope that they will wear that uniform forever.
I know there are about one million different stories, and tributes to Verlander online today, but I want to add one more.
Thank you JV for being what baseball is all about. Thank you for being great on and off the field. Thank you for not forgetting to have fun playing the game you love. Thank you for being a Tiger.