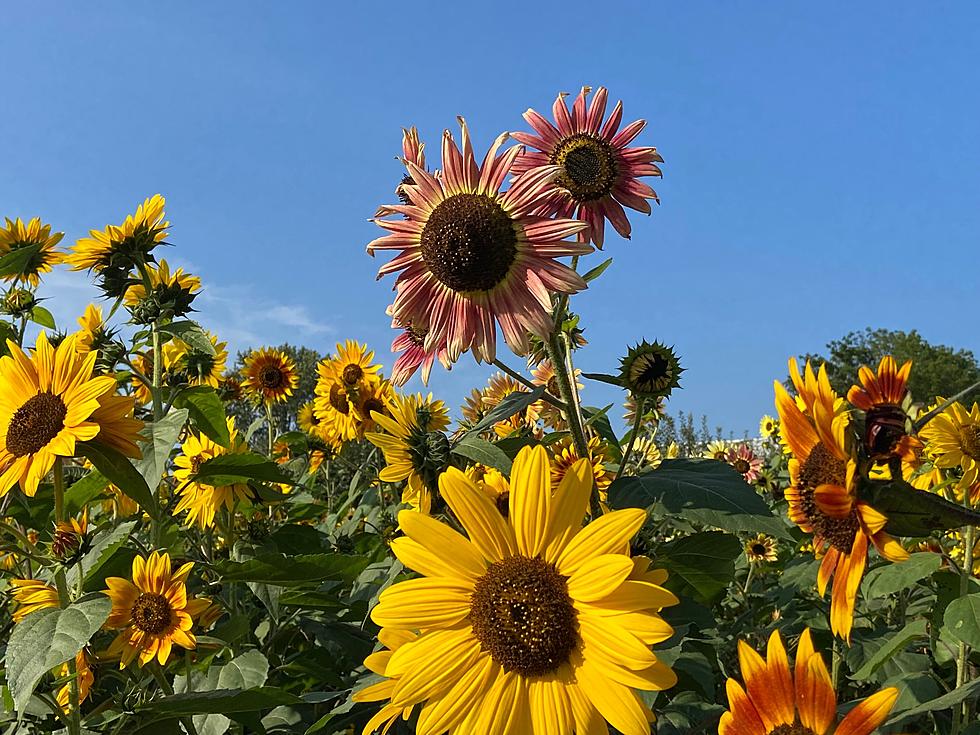 9 Places in Michigan to Take Cute Sunflower Pics Before the Season Ends
Photo courtesy Kristen Matthews
The end of sunflower season is nigh. Typically, sunflower season runs from July until mid September, but maybe the unseasonably warm summer has allowed them to stick around a bit longer, because here we are; late September and still sunflowers. So, think Game of Thrones "Winter is Coming" vibes, but with flowers instead.
But not to fret!
There's still a bit of time left to snap up those cute sunflower pictures before you can't anymore. And we did the leg work for you.
These are nine places here in Michigan that have plenty of sunflowers to take as many lovely sunflower pictures as your social media may need.
Where to Find Fantastic U-Pick Sunflower Farms Across Michigan
When people think of "u-pick" farms, they tend to think of strawberries, blueberries cherries, and other fruits. But don't forget, there are pick-your-own flower farms across Michigan as well. We told you where you could find pick your own lavender farms at the start of the lavender season. Now, it's sunflower season! If you'd like to pick your own sunflowers, or at least take some Instagram-worthy pictures, here's where you can find some wonderful sunflower farms across Michigan.
Don't let the name fool you; Uncle John's Cider Mill, just outside Lansing, is home to a gorgeous sunflower field. you take a bunch of photos, then you can take a bunch of flowers, home...see what I did there? Not to mention, they've got pick-your-own pumpkins, a cider mill, donuts, hard cider, and plenty more.
Country Mill Orchard & Cider Mill
Country Mill Orchard and Cider Mill is located is Charlotte, not too far from Lansing. This is an excellent venue to snap a bunch of cute sunflower photos, grab some donuts, and even take part in you-pick fruits.
DeBuck's Sunflower Fields & Farm 
DeBuck's Farm is in Belleville, Michigan. This farm is home to not only sunflower fields, but lavender ones as well. You can take plenty of pictures in both fields and, at the end of the day, you can take home flowers too; DeBuck's has "you-pick" sunflowers and lavender. If you plan on going, be sure to check out their website first because you do need a ticket, and they only sell tickets online.
Erwin Orchards is another great spot for pictures, and more! Erwin Orchards, in South Lyon, is primarily an apple orchard and cider mill. However, they also boast a gorgeous sunflower field as well! If you head to the end of this gallery, you can see sunflower pictures of the field at Erwin's. And after taking all your cute Instagram pics, you can get cider, donuts, and even some honey for the road!
Spicer Orchards is located in Fenton. This is another great location that has sunflower fields to take pictures in AND a whole bunch of other activities, to boot. Pick-you-own apples and raspberries, a corn maze, hay rides, and more.
Pinckney is home to Schell Family Farm. They have a variety of crops that they produce every year, sunflowers included. Also included; Christmas trees, wildflowers, apples, syrup, pumpkins, and more.
VanHouttes Farms is in Armada, Michigan. Another awesome opportunity to get all kinds of beautiful photos, enjoy yummy treats, and take part in fun activities.
Blake Farms has a lot under their belt; sunflowers, check. You-pick fruits and veggies, check. Hard cider, check and check. Blake Farms, like VanHoutte Farms, is also in Armada, Michigan. You can enjoy plenty of activities there seven days a week.
As the name implies, Lewis Adventure Farm & Zoo plays home to a variety of animals, some you can interact with and some you cannot. Additionally, it also plays home to an abundant sunflower field, perfect for snapping those selfies, and over 40 more attractions. Check out their website for all the cool info.
Lies Michiganders Tell Themselves About Fall
Even those of us that say it's our favorite season are lying someway or another.